Self-Experiment: Living According to the Slogan "Collecting, Preserving, Researching"
Nýlendugata 15, Reykjavik 1997/1998
Domestic waste is produced in the private sphere and then adds up to being a public problem. As early as 1995, Nana Petzet began taking this public problem personally and turned her apartment into a combination of a waste collection point and recycling plant. She achieved the best results in this experimental approach during a half-year stay in Iceland. For six months she collected all the sales packaging accumulating in her four-person household that could be cleaned and stored without causing unpleasant smells. At the end of her stay, Nana Petzet invited the Icelandic art audience to visit her home. This way the extensive collection of waste in the attic, the various repairs and the household items created from waste could be inspected in situ, which means in their natural environment. Based on this accumulation of material, a multifarious potential had been created, which in the context of the apartment, unlike on a rubbish dump, kept its human relation.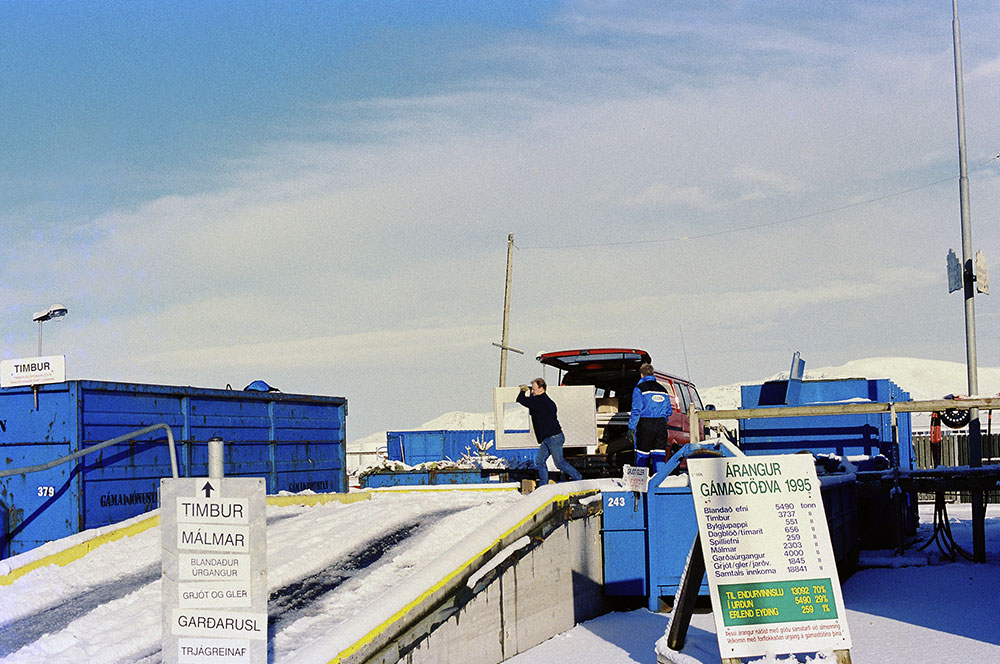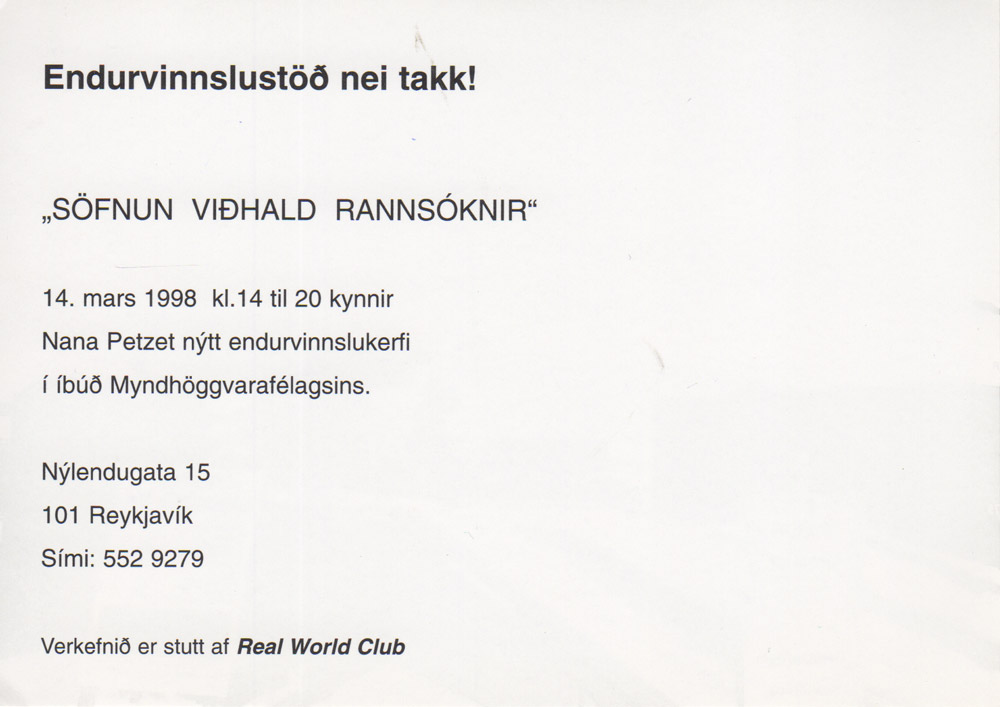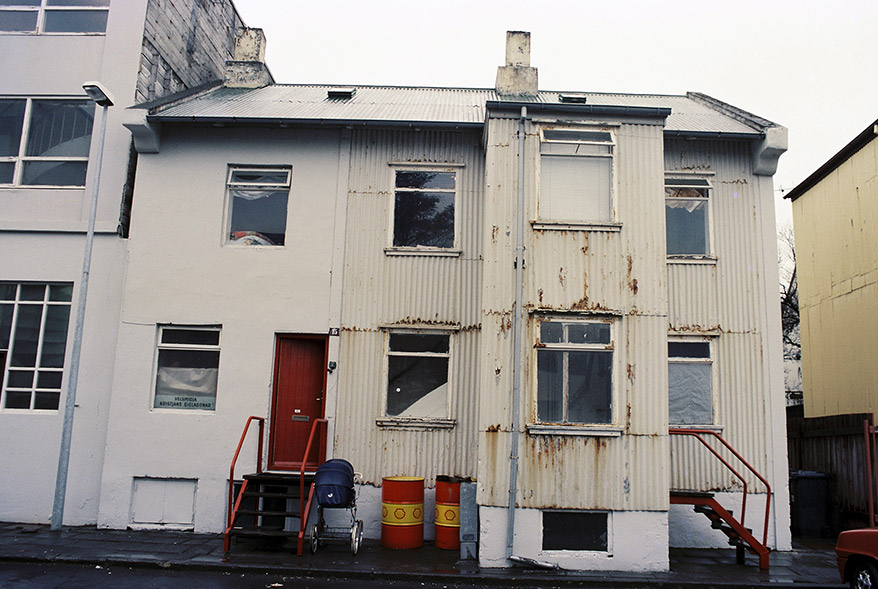 Entrance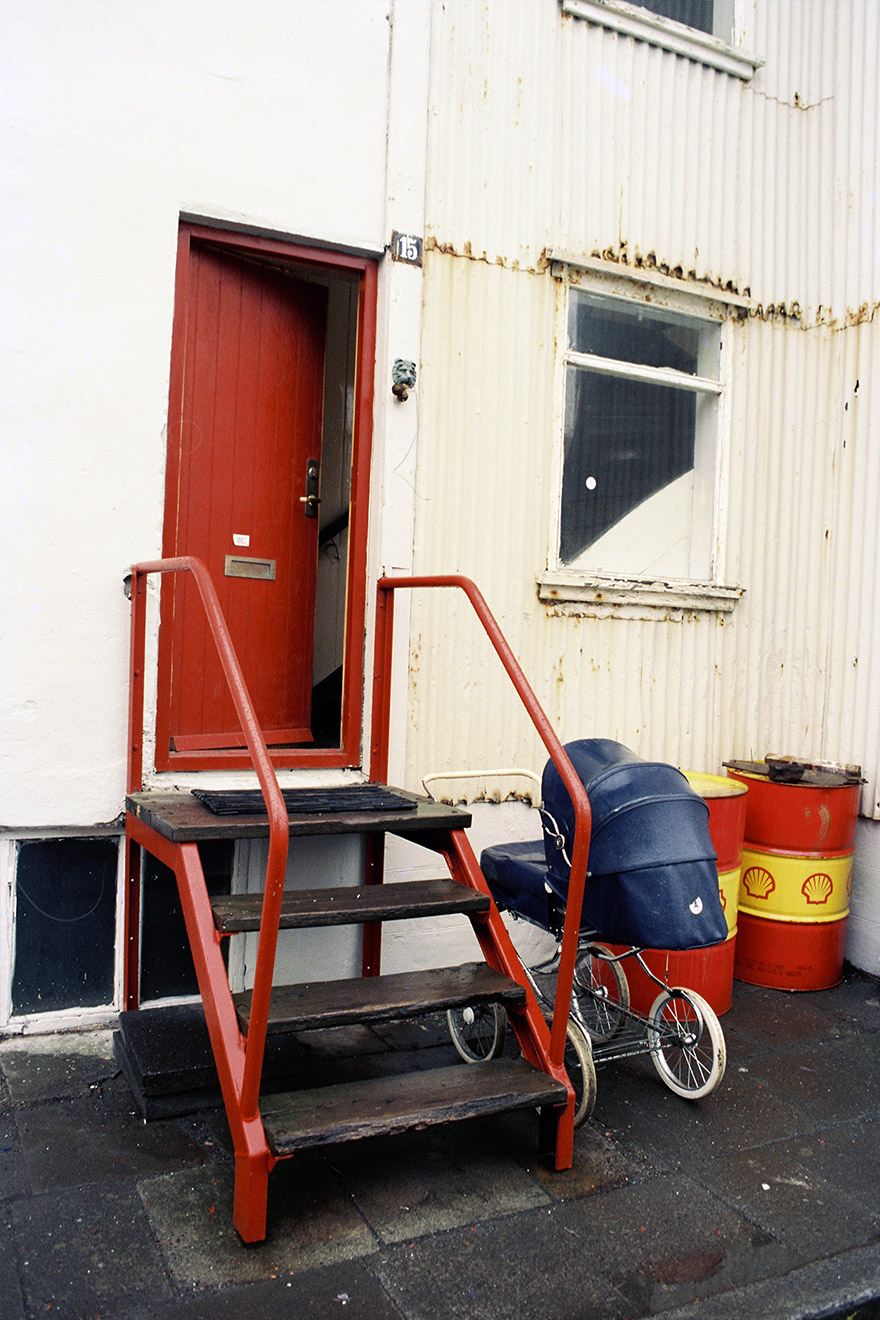 1 Foot scraper made of car tyre
2 Repaired buggy: welded axle, one new wheel, four rivets replaced by screws, new hinge on the roof, footrest frame fixed with tape, cover with renewed rubber bands

Front yard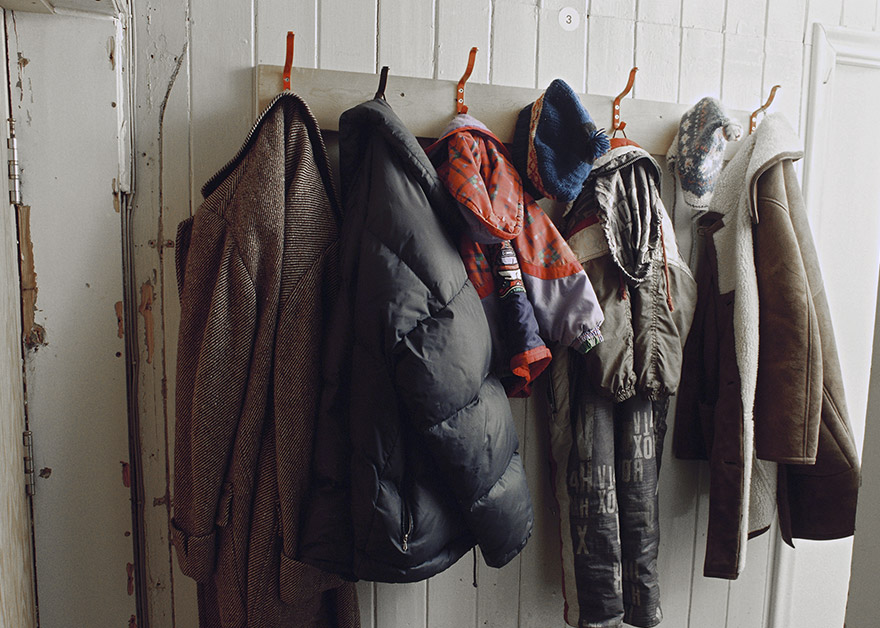 3 Repaired winter jackets: buttons sewn on, patches applied, seams resewn, holes stitched

Bathroom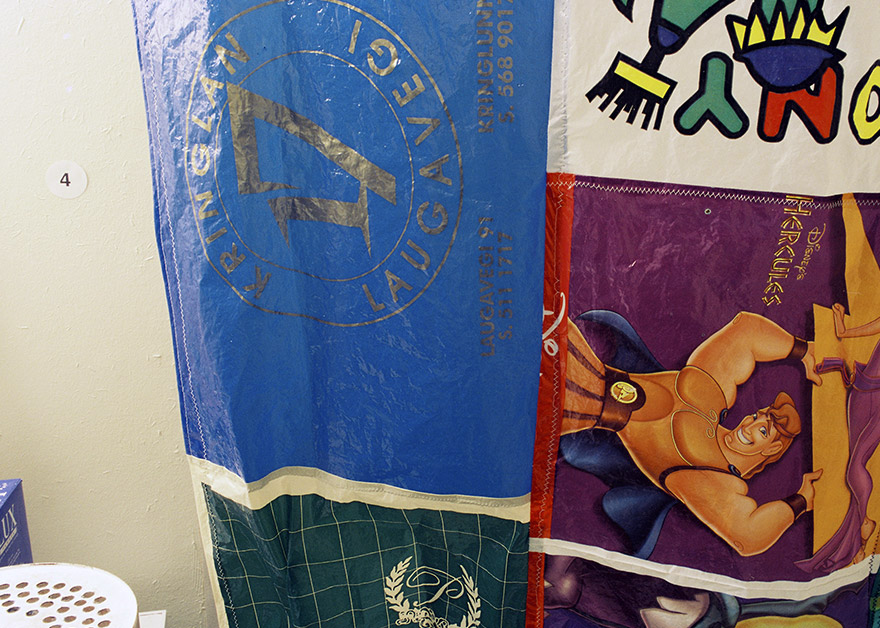 4 Shower curtain made from plastic bags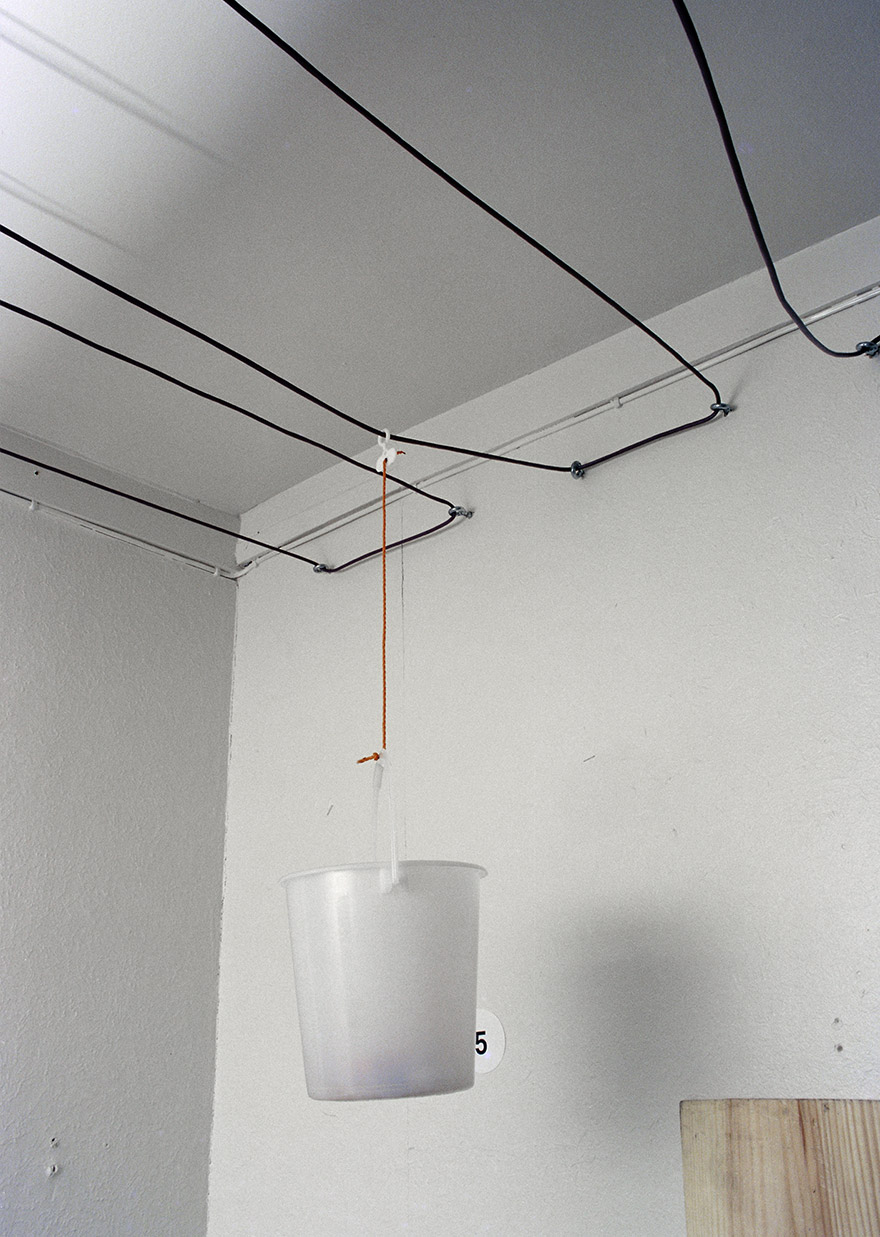 5 Clothes peg container: herring packaging, plastic hooks from a stocking packaging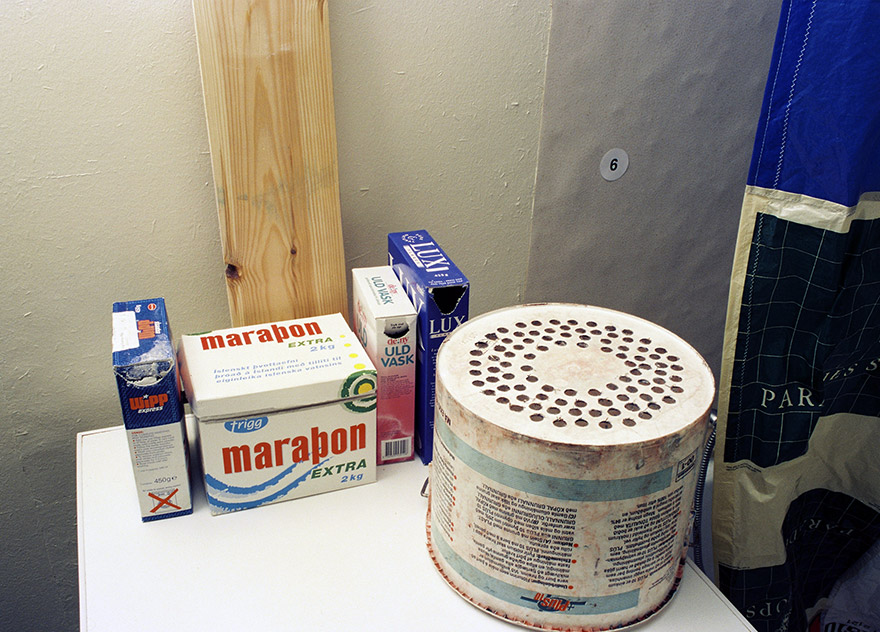 6 Paint bucket with holes for hand wash to drip off

Staircase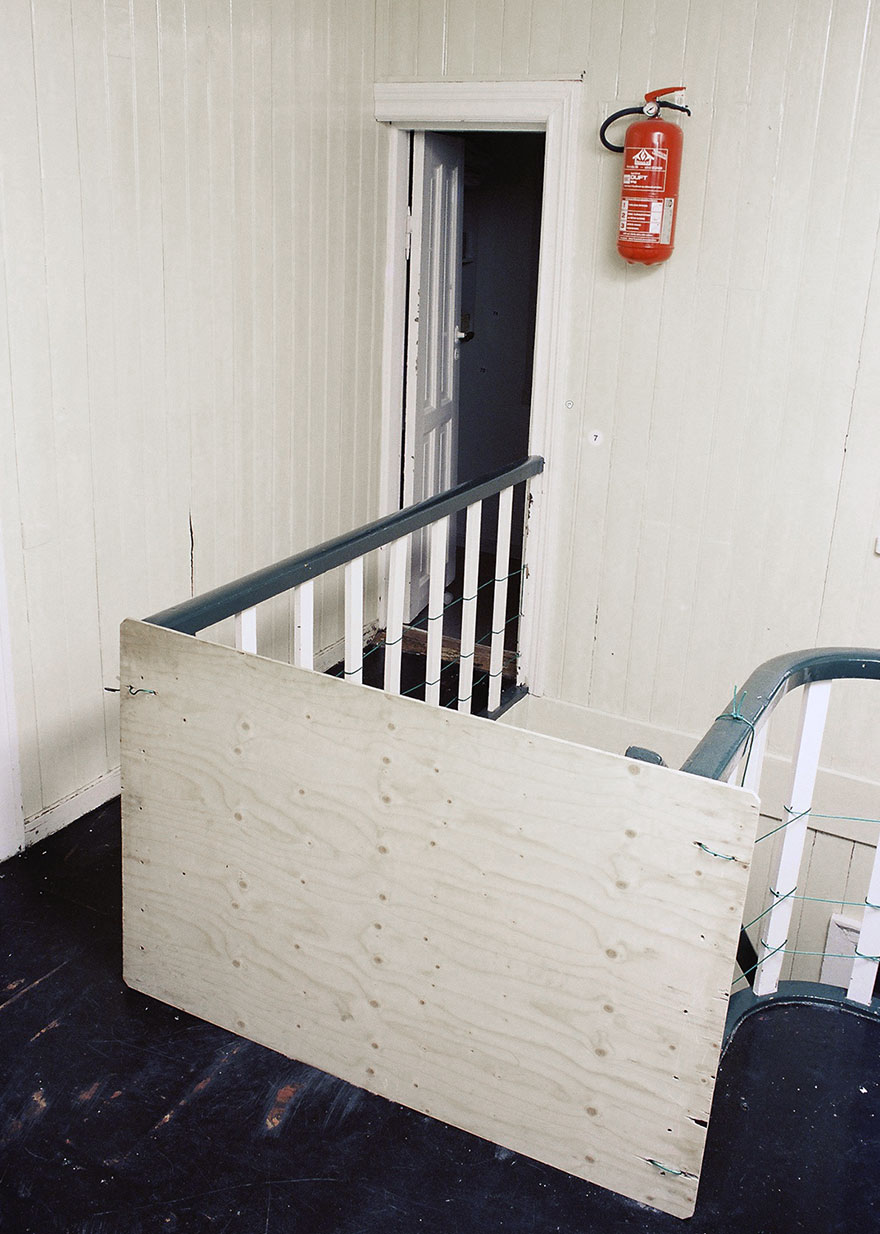 7 Childproofed the staircase banister: old clothesline, used hooks, found cross veneer panel, plastic hook as a lock
8 Mended broken lid of a plastic laundry basket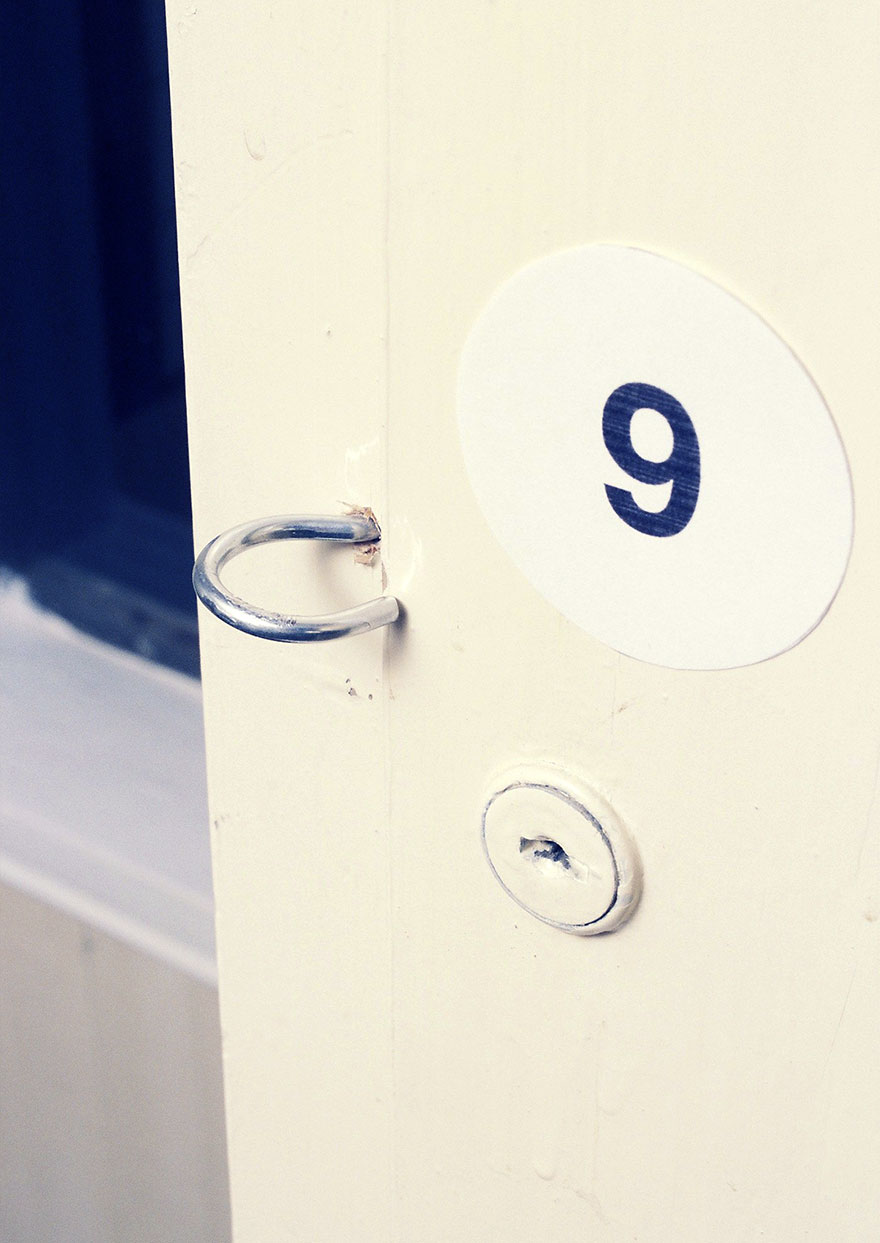 9 Found hook as a door lock
10 Wine cork as a key ring

Bedroom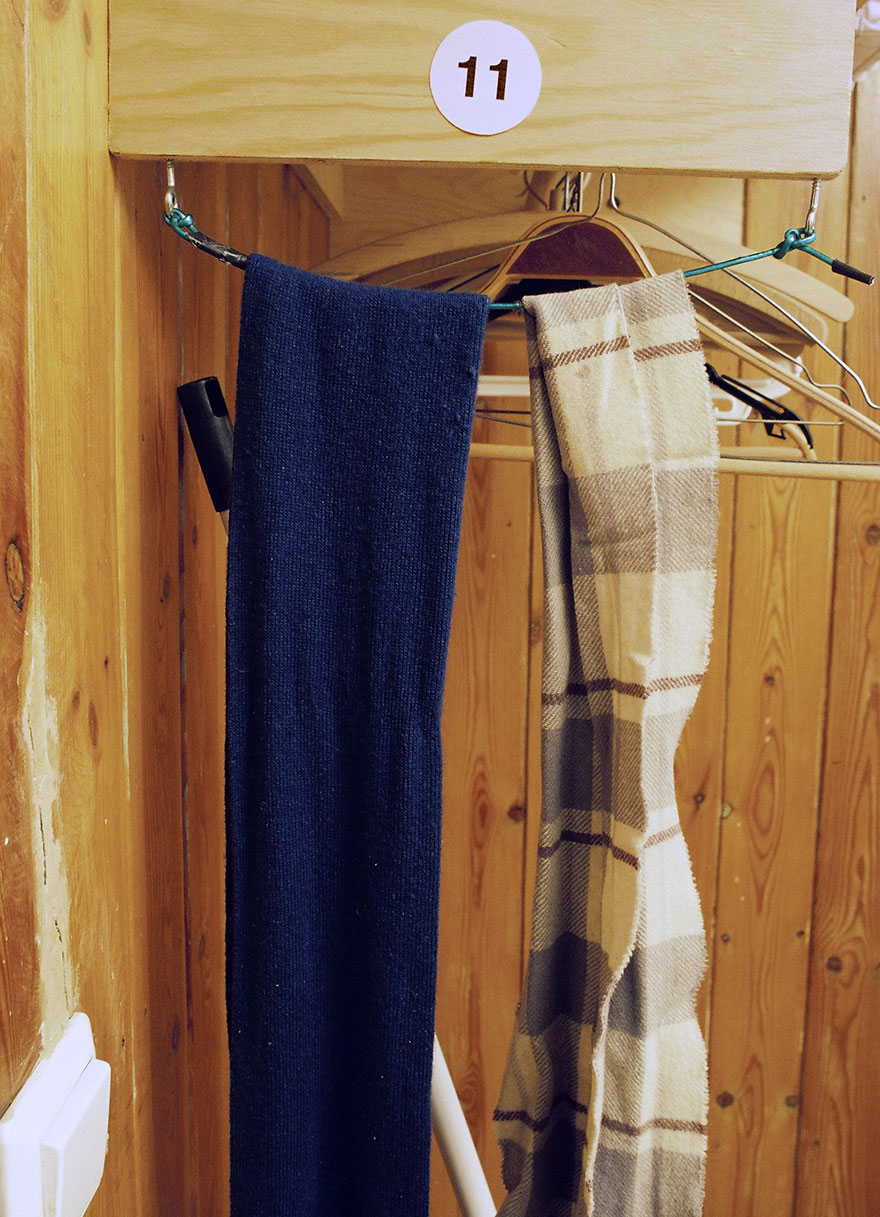 11 Hanging device for scarves made from old linen string, scarves with stitched moth holes
12 Tablecloth used as a curtain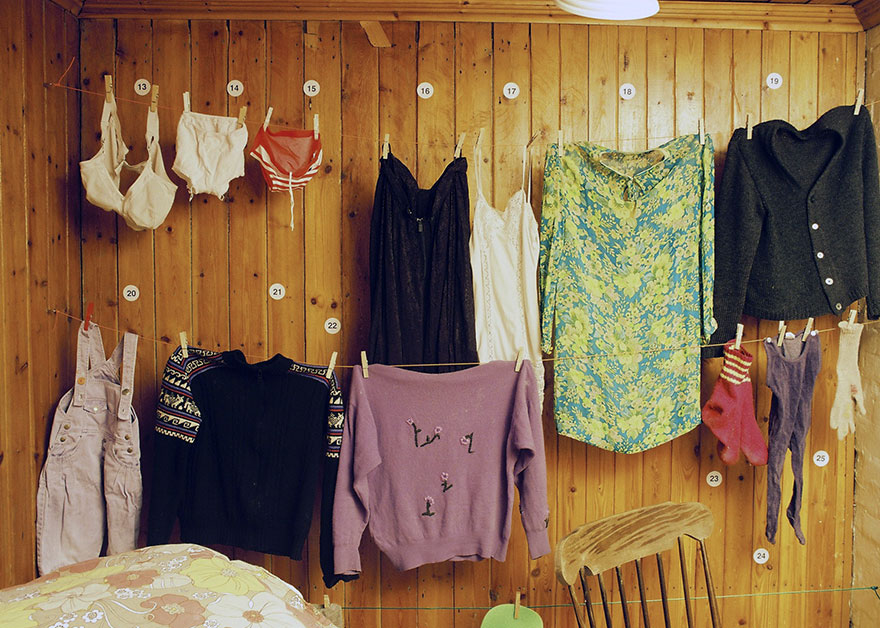 13 Pregnancy brassiere made into a breastfeeding brassiere (modified strap fastening)
14 Trouser elastic renewed
15 Dissolved drawstring mended through weaving
16 Zipper: new pull tab made of textile strips
17 Underskirt straps reattached
18 Hem repaired
19 Jacket with new buttons as similar as possible to the old ones
20 Buttons and buttonholes in the place of damaged adjustable braces fastenings
21 Jacket with new zipper
22 Moth-eaten jumper repaired by embroidering flowers on it
23 Socks with stitched heels
24 Romper suit: buttons sewn on, toe area stitched
25 Gloves stitched with pretty thread
26 Woolen trousers: hole in the knee area stitched
27 Cap: conspicuous stain hidden by a patch
28 Shoelaces shortened, ends sewn up
29 Tear in blanket mended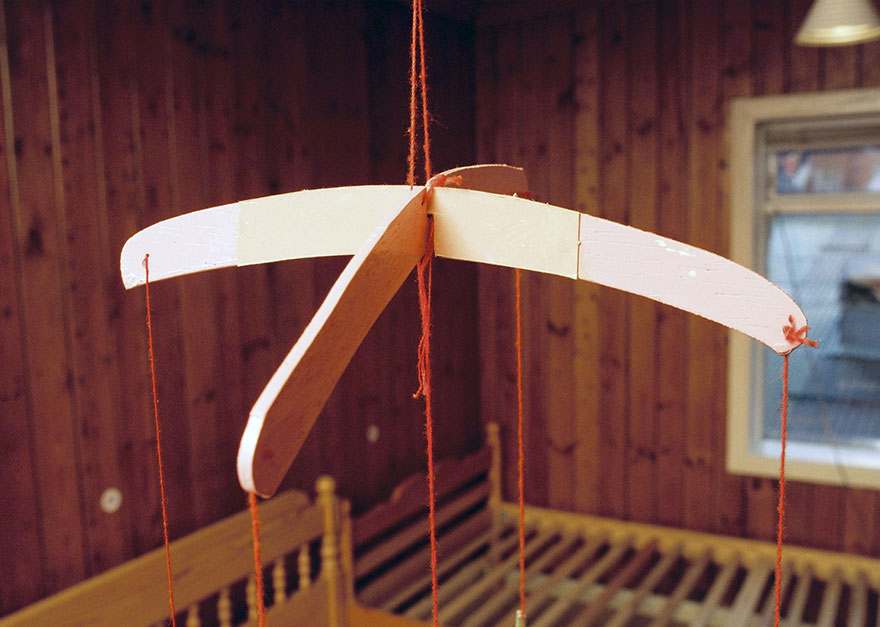 30 Mobile: music box made from broken teddy, wooden cross glued and reinforced with colour-matched cardboard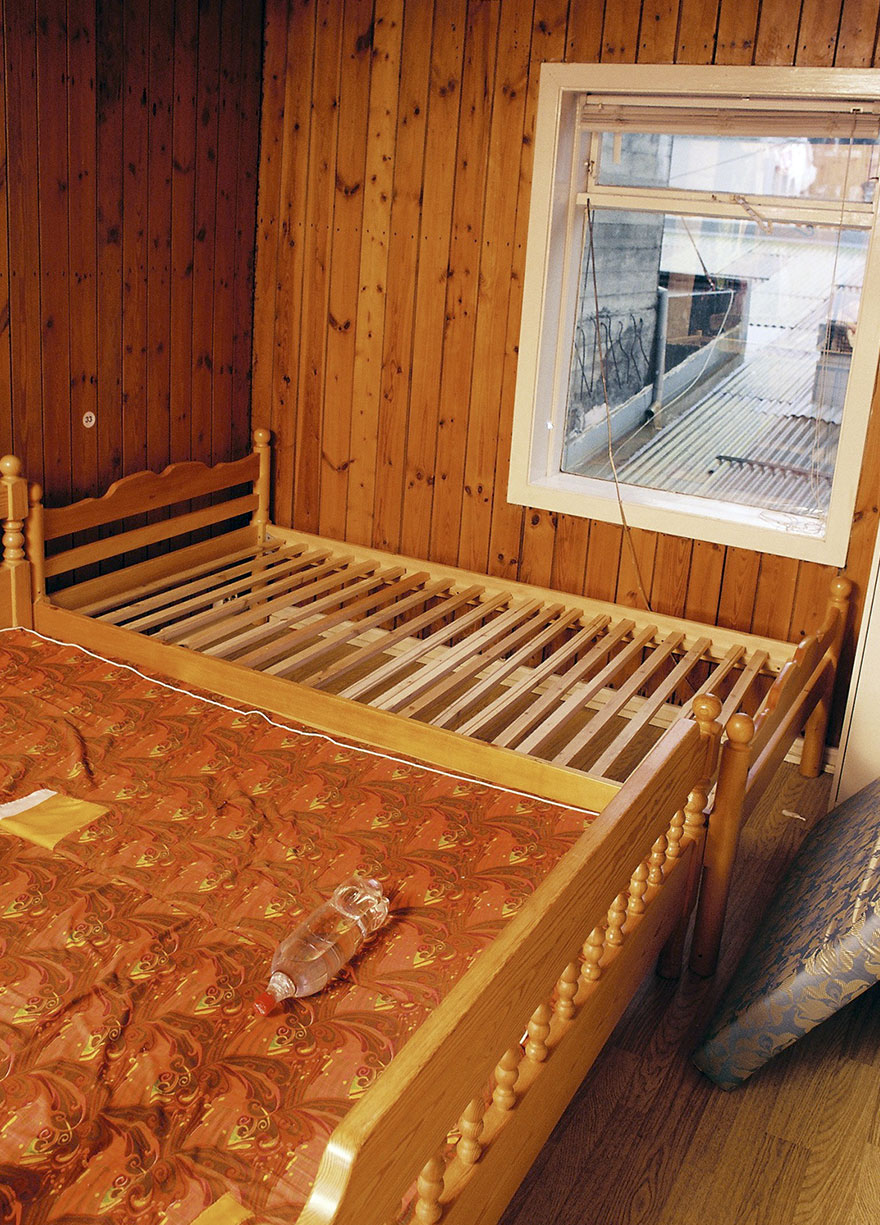 31 31 Ribbon reattached to bed cover
32 Mattress cover with sewn-on patch
33 Bed frame: mouldy chipboard removed and replaced by found boards sawn to size
34 Coke bottle as hot water bottle

Living room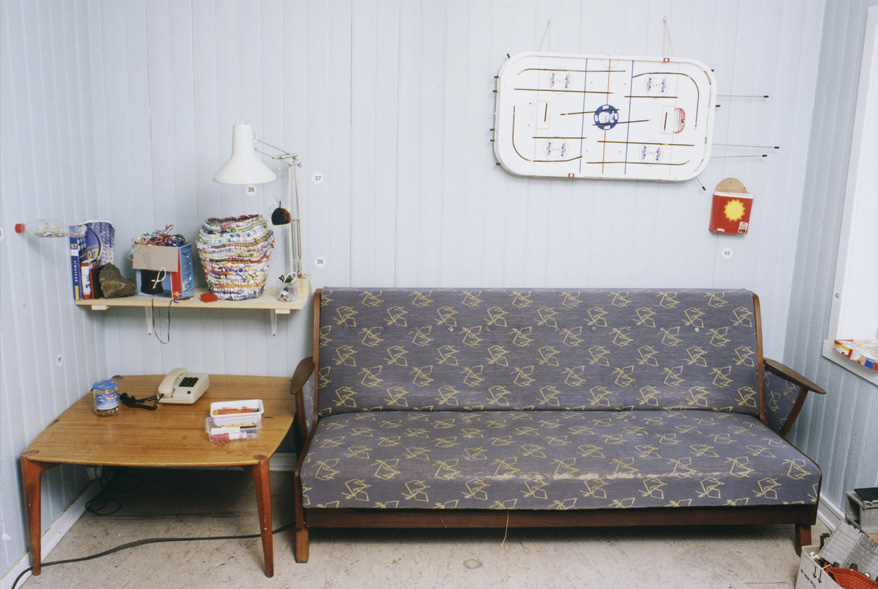 35 Cut-open coke bottle as thread holder
36 Sewing basket made from plastic bags and gift ribbons
37 Pin cushion: used sock filled with paper
38 Lamp holder made from a block of wood
39 Money box made from a herring jar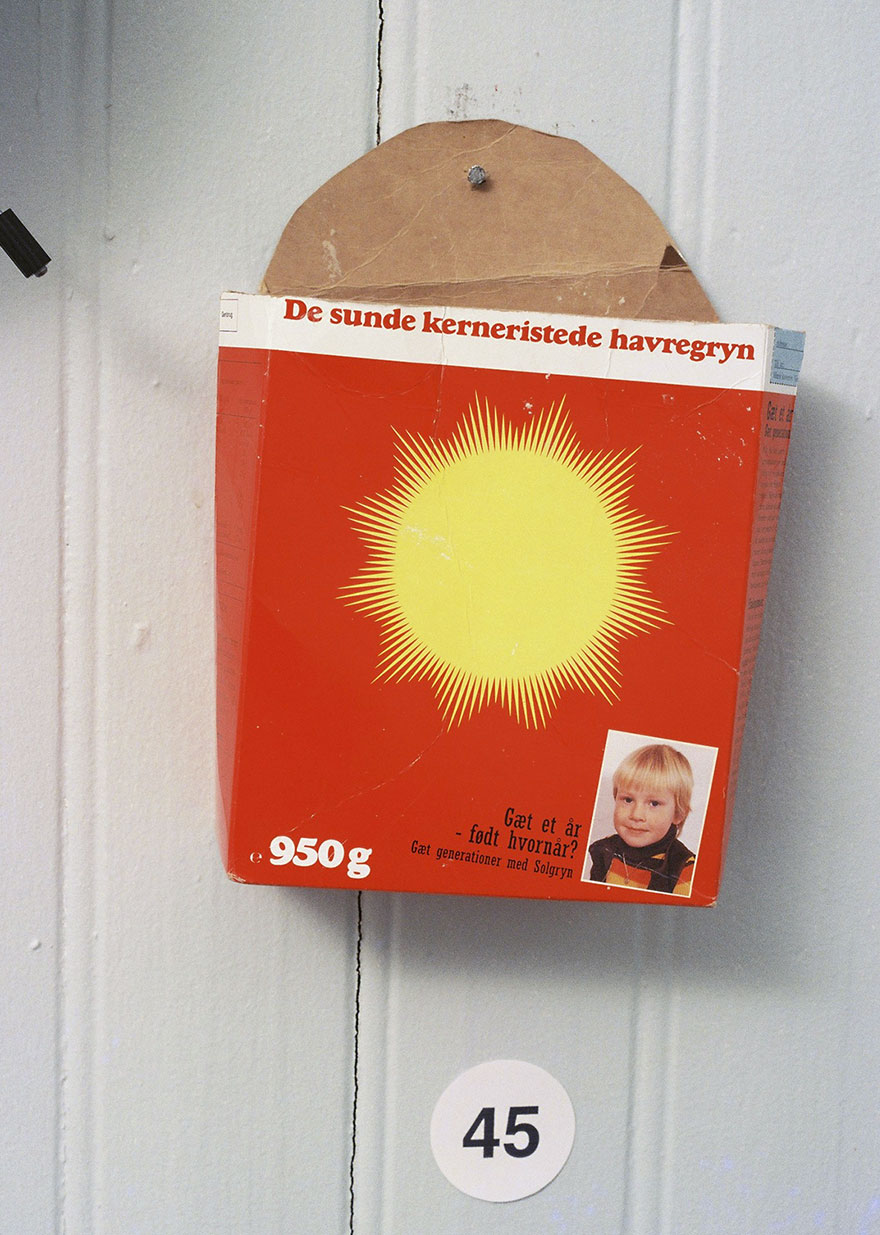 45 Oatmeal box as a container for toy men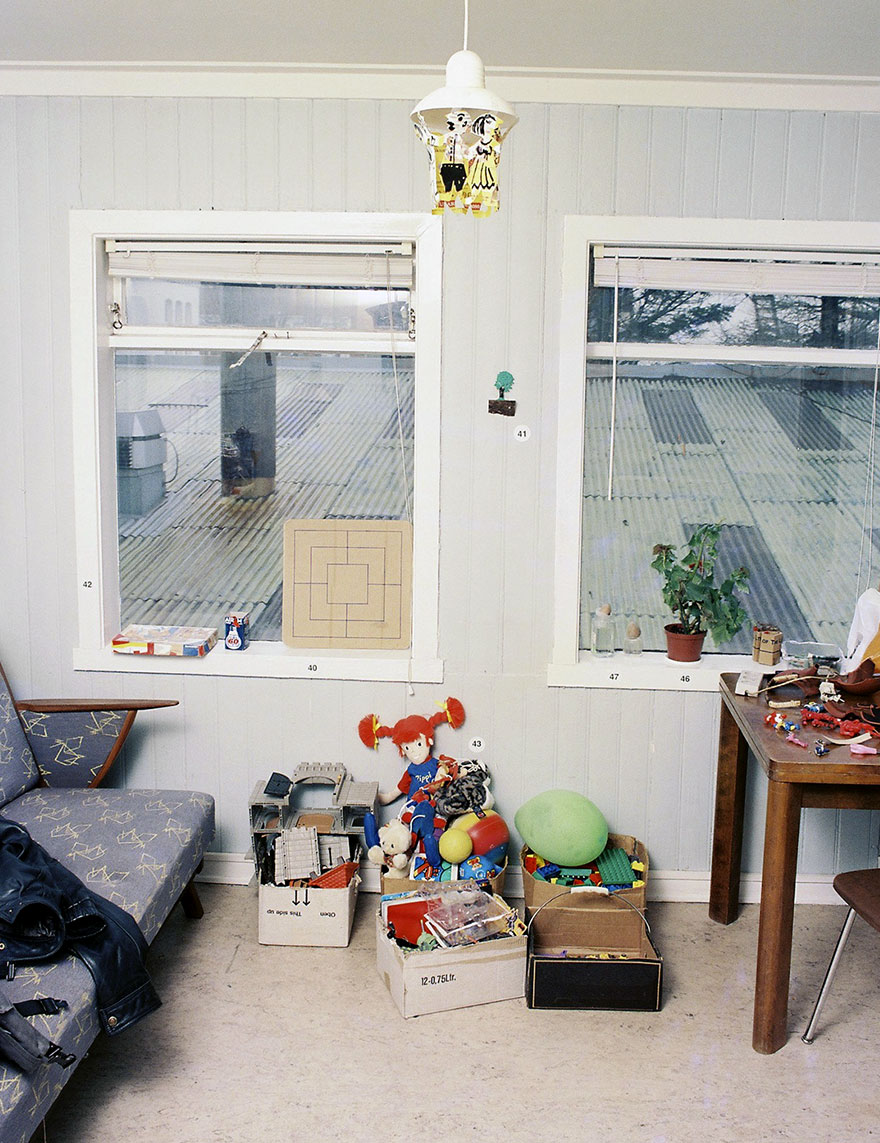 40 Mill game made of cardboard and crown caps
41 Toy tree repaired with adhesive tape
42 Box repaired with adhesive tape
43 Cardboard boxes as toy boxes, one box has a handle from a paint bucket
44 Lamp decoration made from pizza advertisements
46 Plastic lid as coaster for a flower pot
47 An avocado seed taking root in a baby food jar
48 Work table: repairing broken objects

EssDining room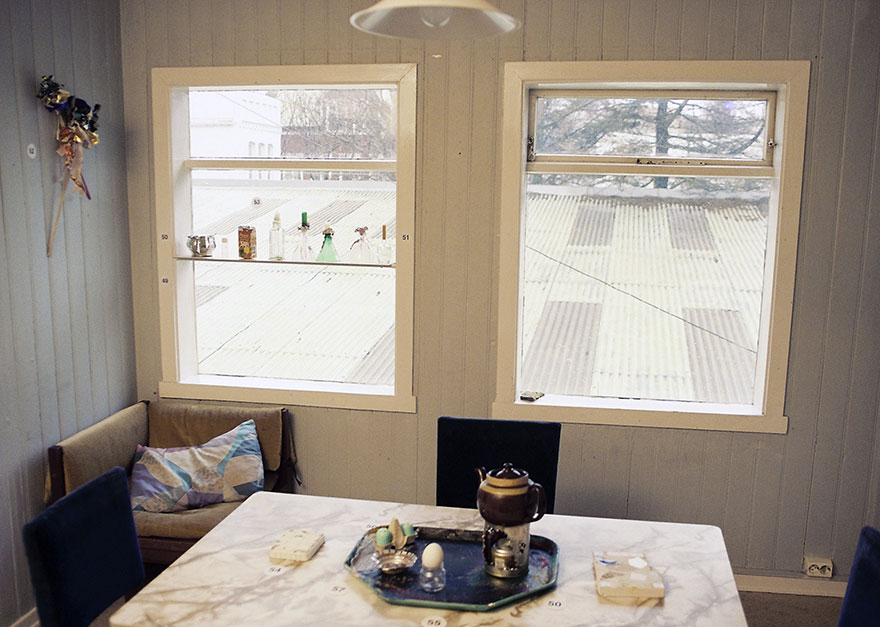 49 Curtain rod as a shelf support
50 Teapot warmer made from a tin can
51 Various candle holders made from PET bottles
52 Bolluvöndur (object of Icelandic custom) made of a rocket stick and wrapping paper
53 Cleaned fruit juice carton with snap fastener
54 Coaster made of ceramic shards and plaster
55 Baby food jar as an egg cup
56 Salt and pepper set made from an egg carton and children's surprise eggs
57 Ashtray made from a beer can and electric wire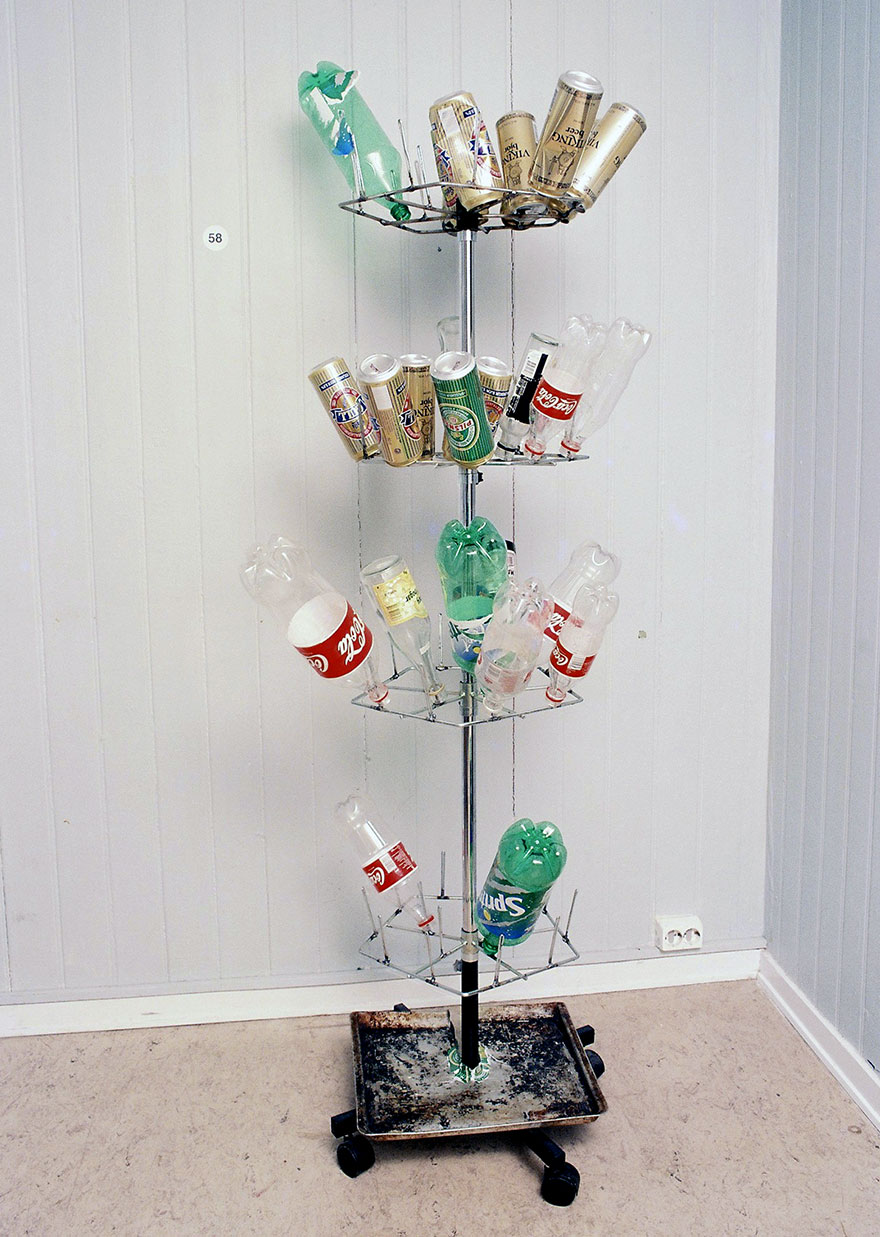 58 Postcard stand converted into a bottle dryer, drip water collector made from an old baking tray

Kitchen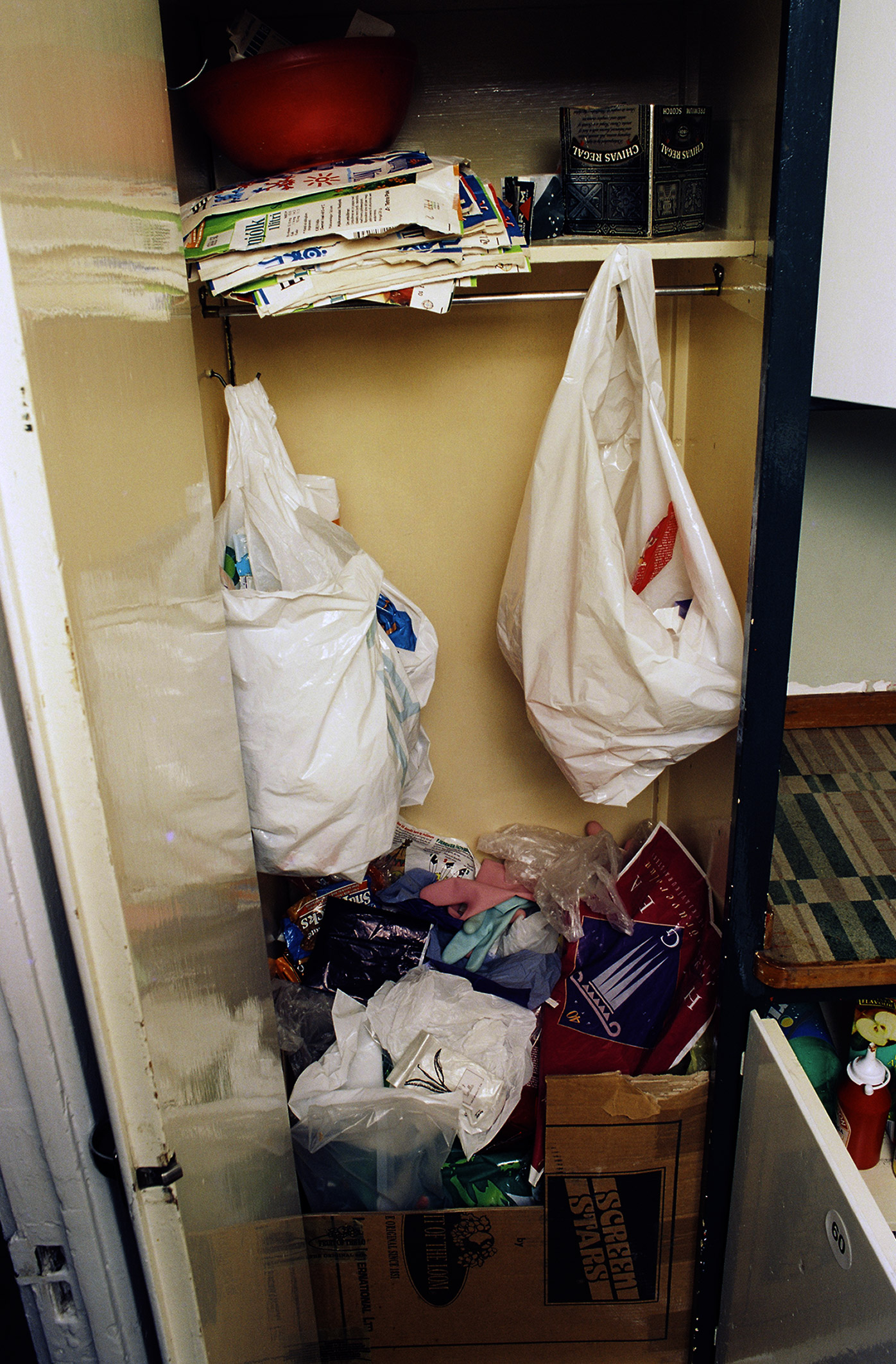 59 Collection point for used, contaminated plastic bags and foils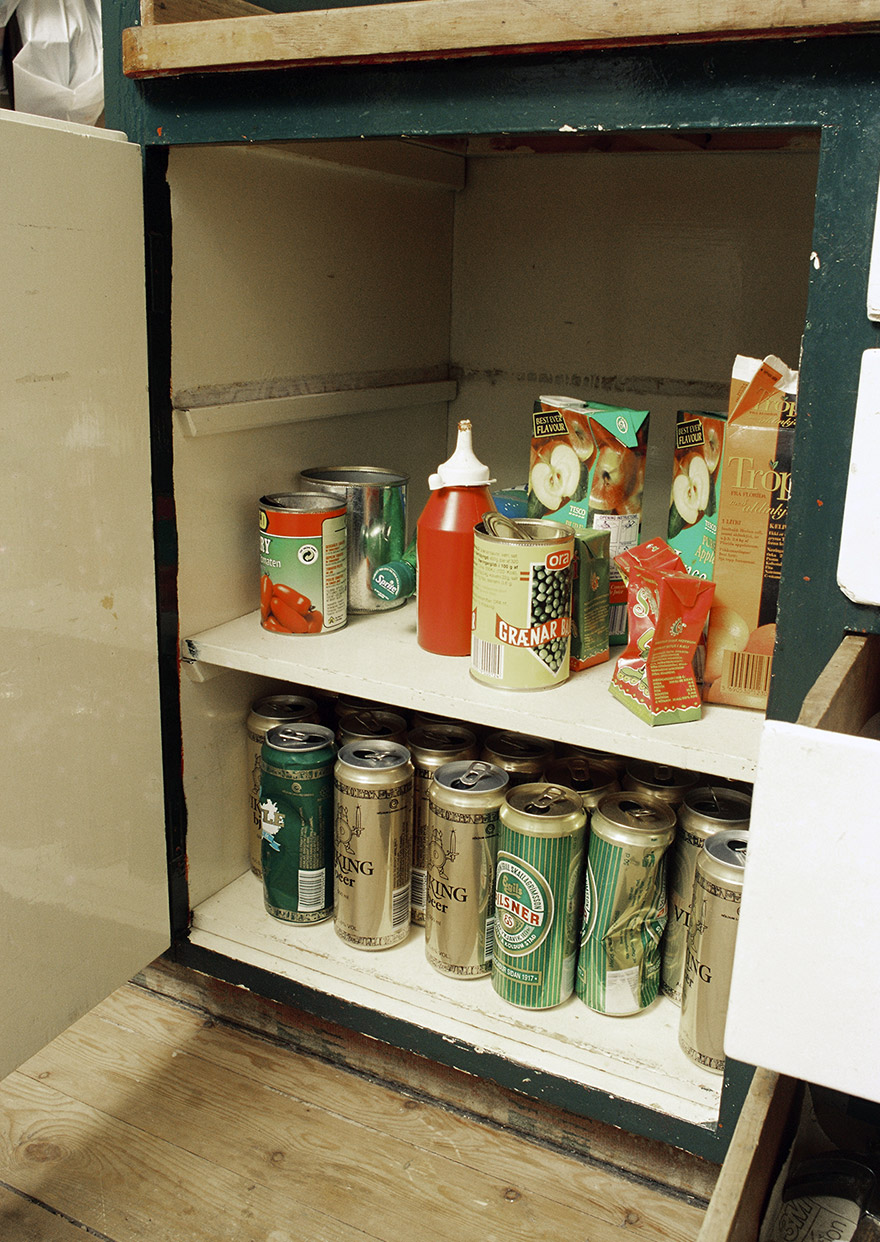 60 Collection point for beverage cans and beverage cartons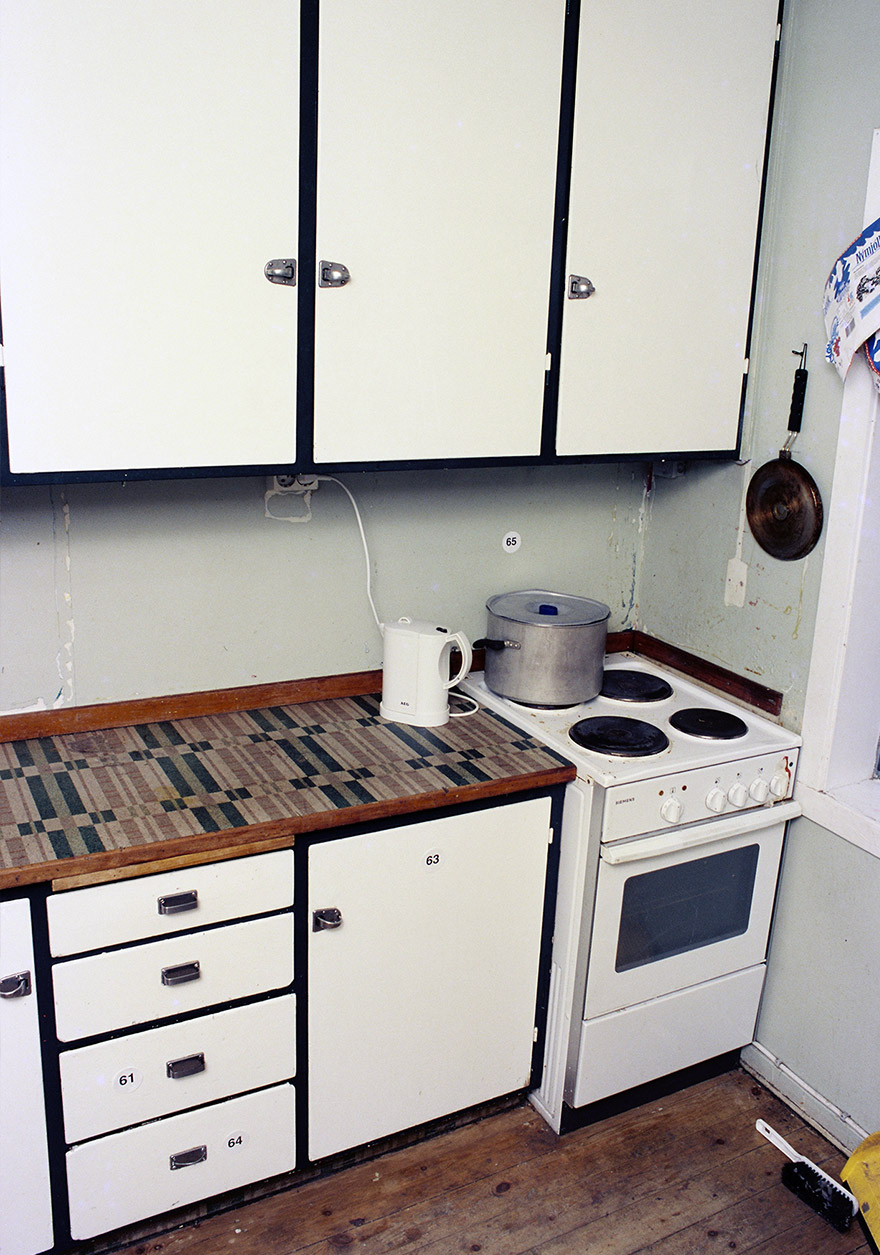 61 Collection point for polystyrene packaging
62 Collection point for paper
63 Collection point for screw-top jars
64 Wire as drawer handle
65 Cream bottle lid as pot lid handle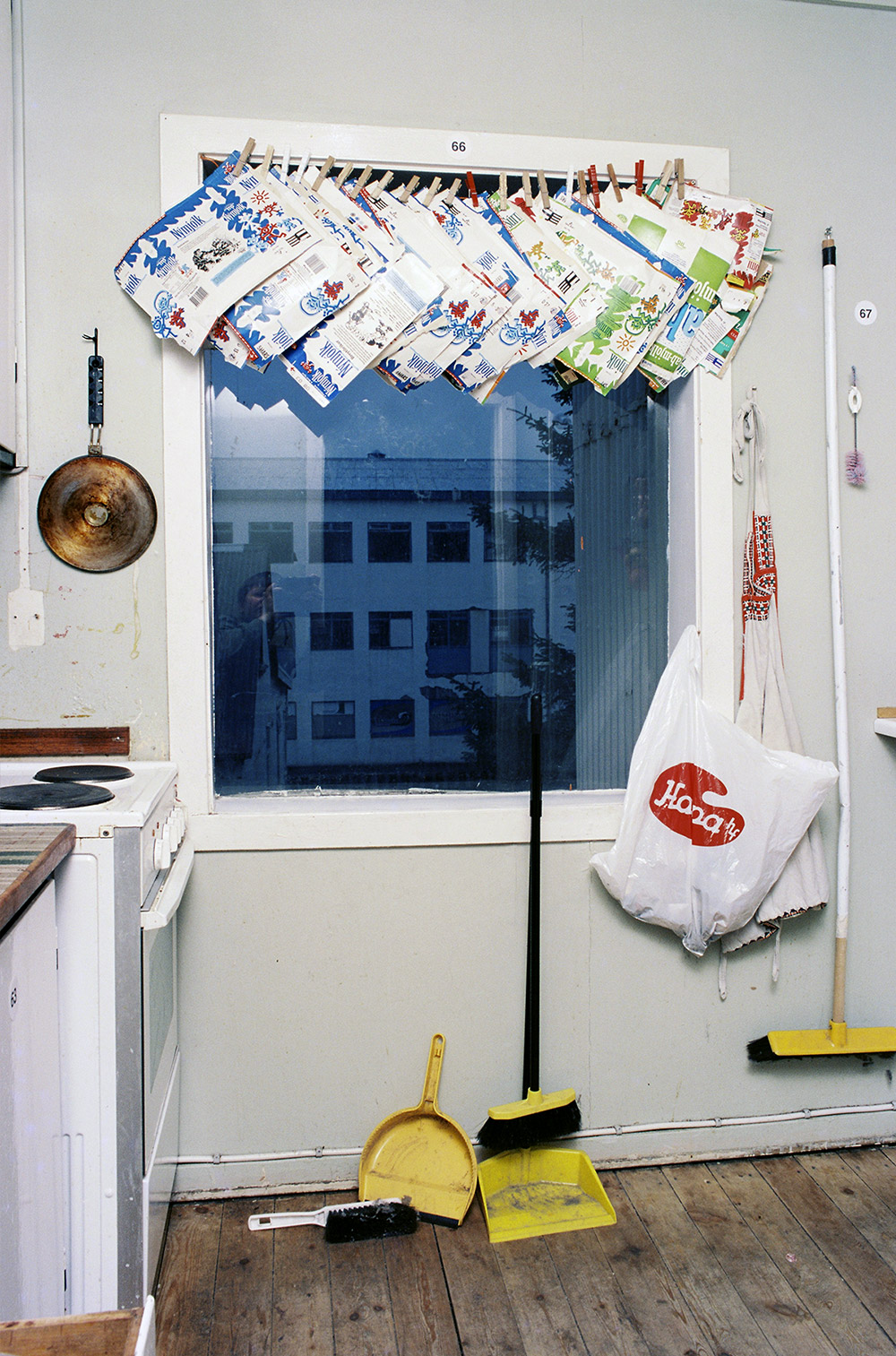 66 Drying unfolded, cleaned milk cartons
67 Broom handle extended with wooden rod, attached to broom with screws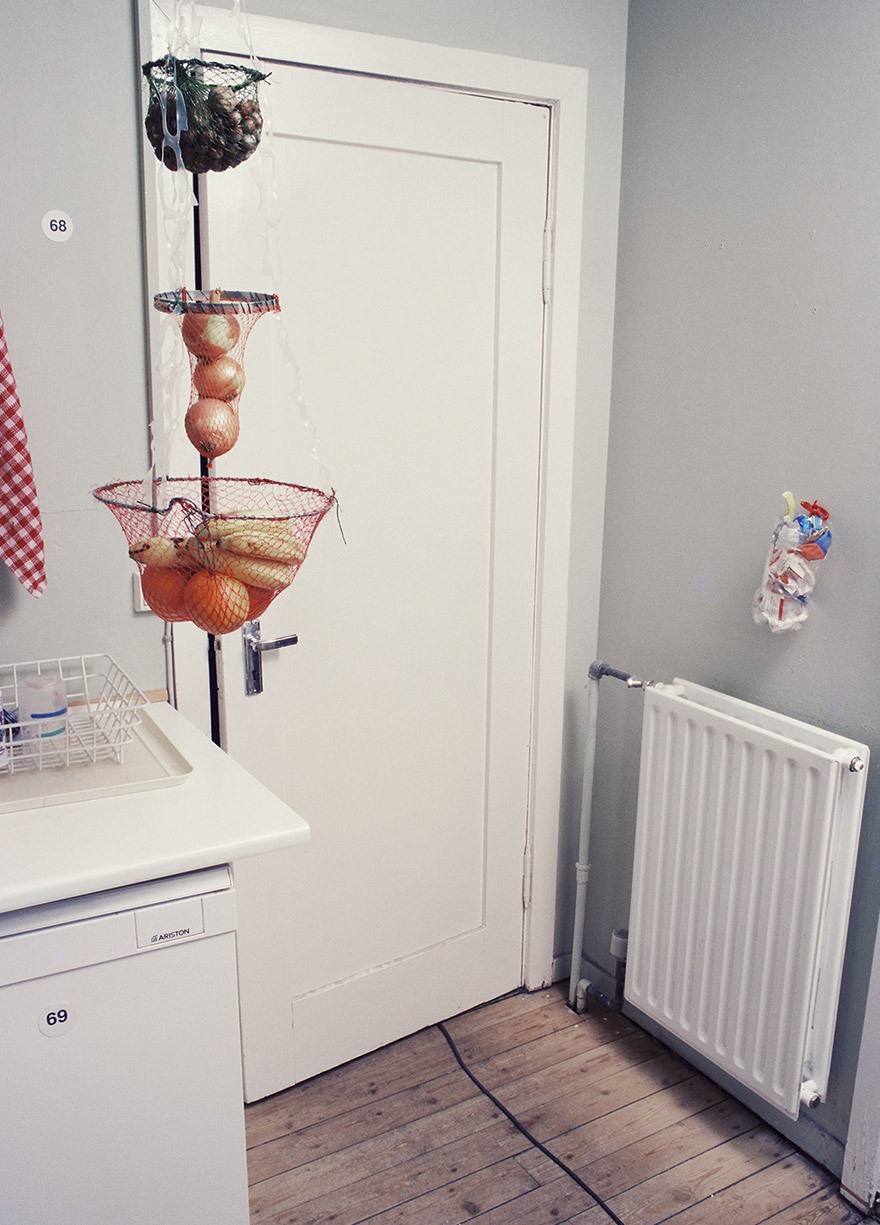 68 Three-level hanging basket: fruit nets, plastic rings for bundling six packs, various found objects
69 Food storage in containers from various contexts of use
70 Collection point for sweet wrappers

Toilet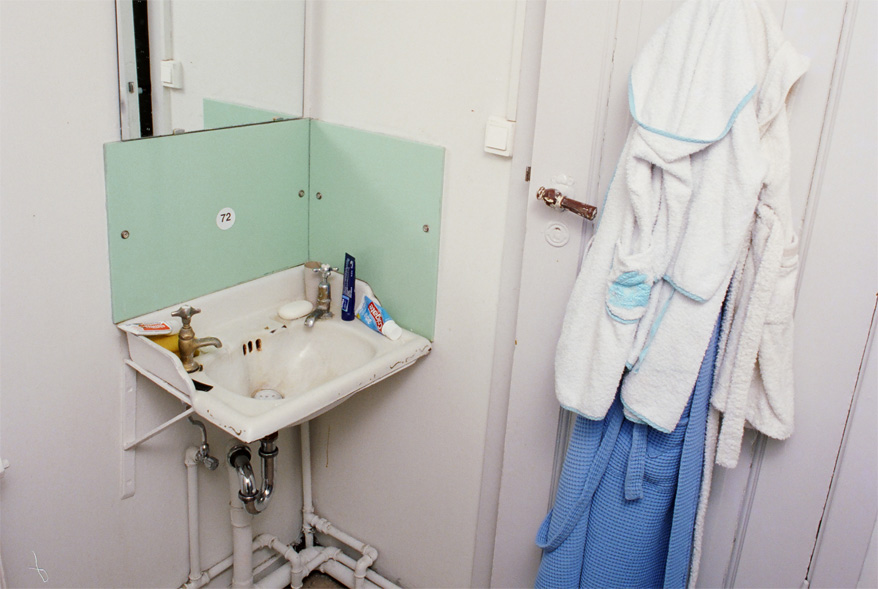 71 Pacifier ring as toilet flush handle
72 Drain sieve made from a beer can
73 Hook for washcloth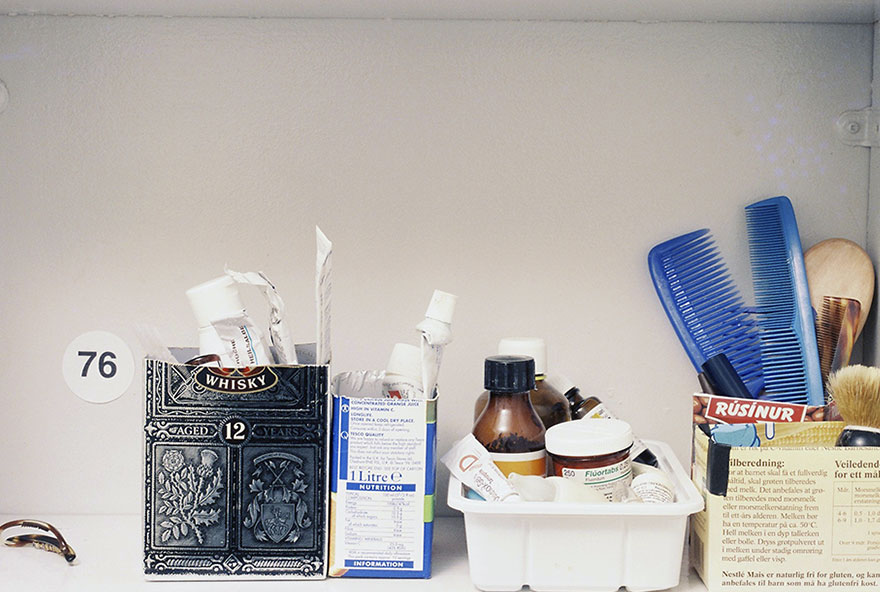 74 Sales packaging used for storing make-up, shaving and medicines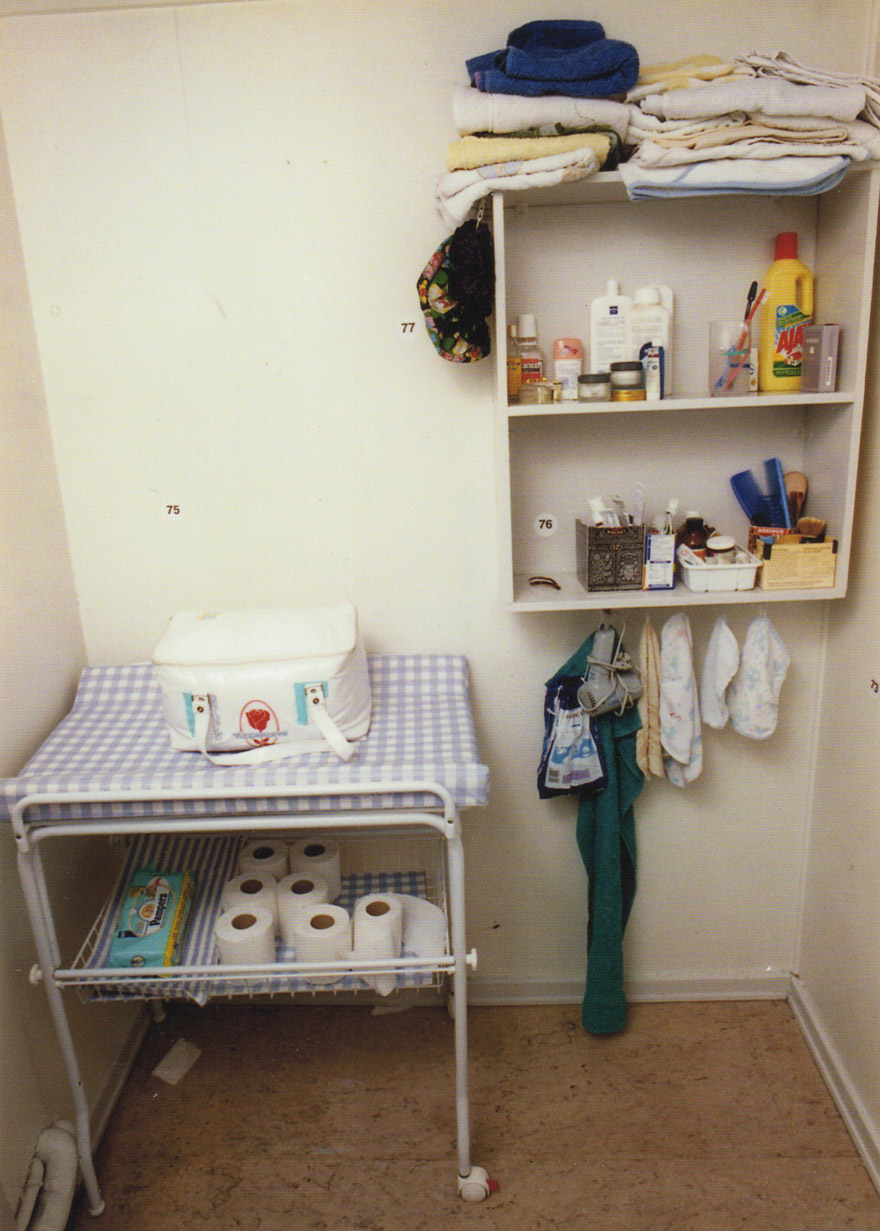 75 Diaper bag: handle sewn on, seam reinforced with plastic film patches
76 Hair clip repaired with cable wire
77 Hair tie made from fabric scraps and trouser elastic

Attic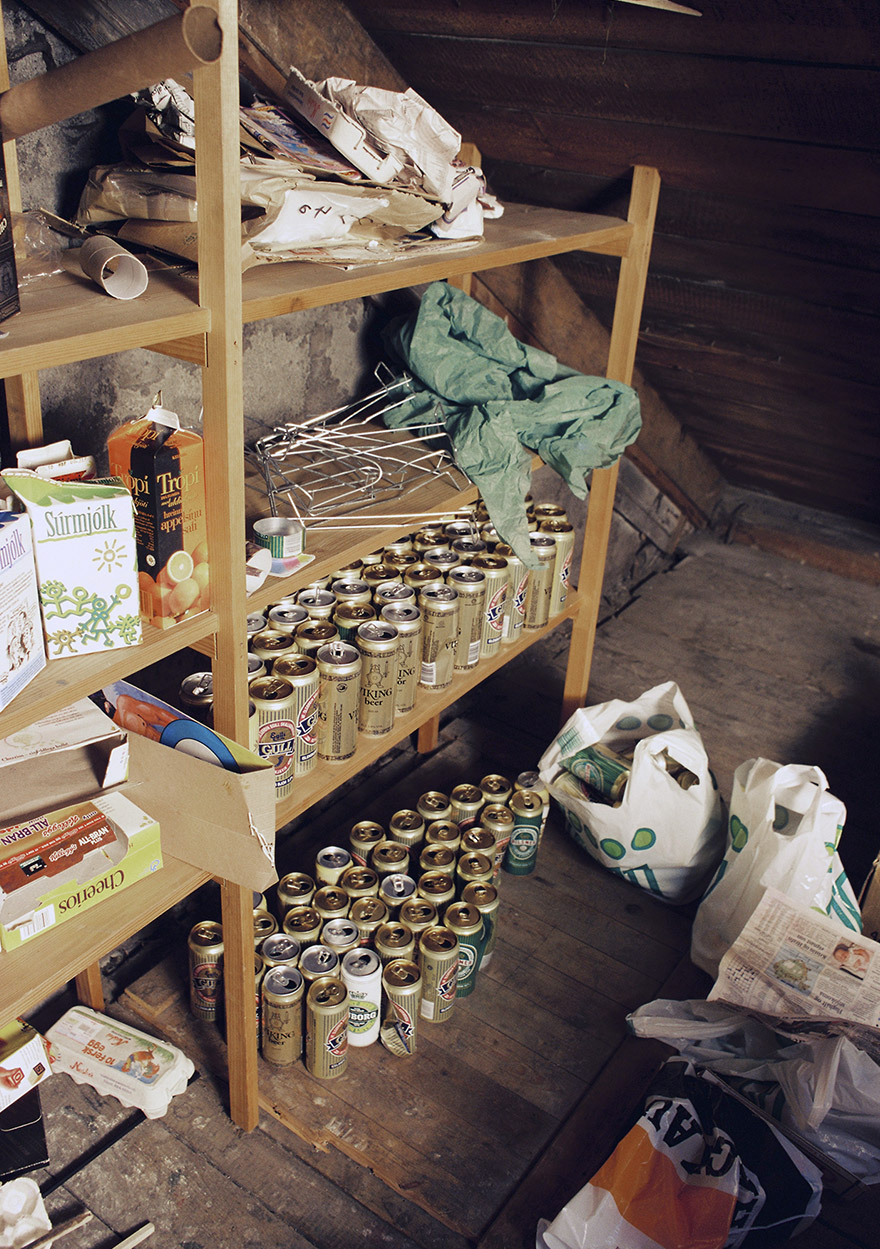 78 Shelf with cleaned, sorted sales packaging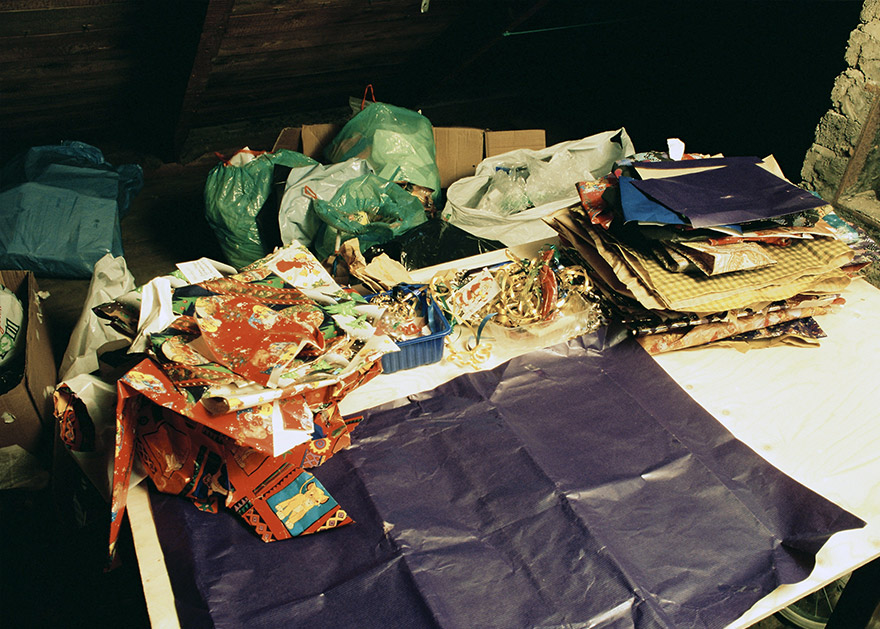 79 Work table: used wrapping paper freed from tape remnants, repaired and smoothed out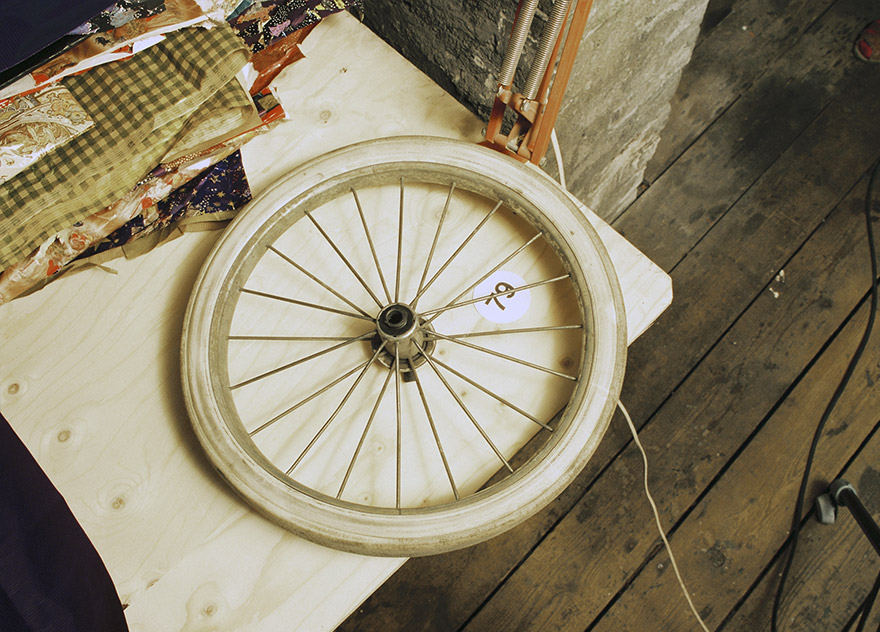 80 Buggy wheel: worn-out ball bearing replaced by sawn-off plastic handle of a wallpaper brush

Photo documentation of the exhibition: Ivar Brynjólfsson