Model Test RED
An exploration on the destiny of modern painting in every-day life
Model Test RED examined the aging properties of modern paintings using the example of monochrome painting. For this purpose, Nana Petzet created 73 monochrome paintings. Each painting was subdivided into three sections, featuring the three most commonly applied painting techniques. All phases of development were accurately documented and individual divergences were noted. While exemplar No. 1, as a reference exemplar, was stored under ideal conservation conditions, the other paintings have, since the beginning of the test on 6 December 1991, been displayed in a total of 14 solo and group shows in Germany, France, Switzerland and the Netherlands. The aging process of the models was examined and documented at regular intervals. Important stations of the Model Test RED were: Galerie Sylvana Lorenz, Paris, 1992; Galerie Analix, Geneva, 1992; Kunstraum München, 1993 and Nationalgalerie Berlin, 1993. Particularly after the as yet final presentation at the Weserburg Museum of Modern Art, a consistent pattern of damage became evident. Art may, therefore, provide ideal grounds for experimental arrangements, if and when it is placed fully to the service of its own scientific exploration.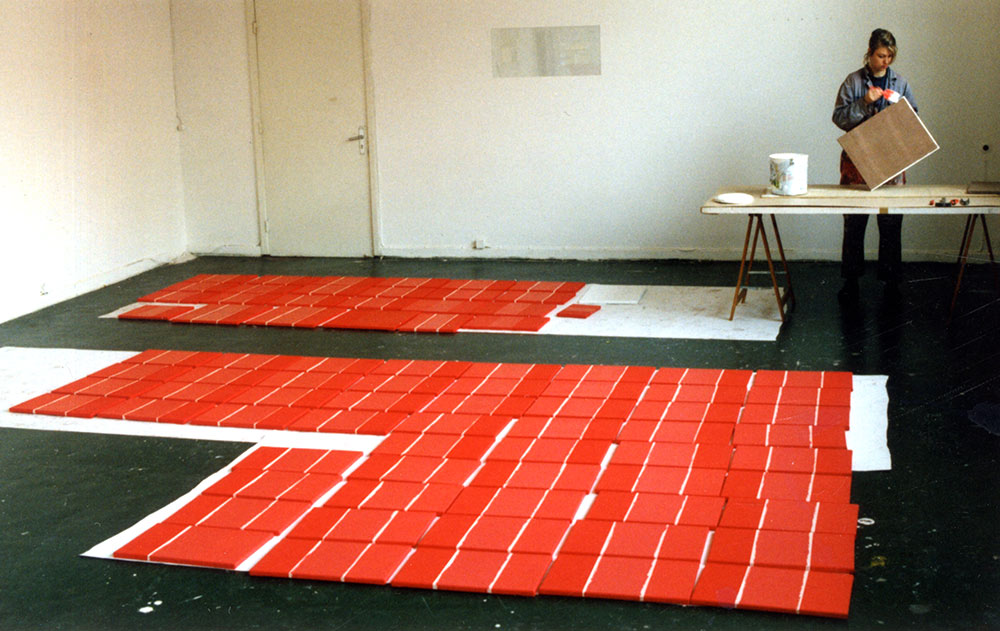 1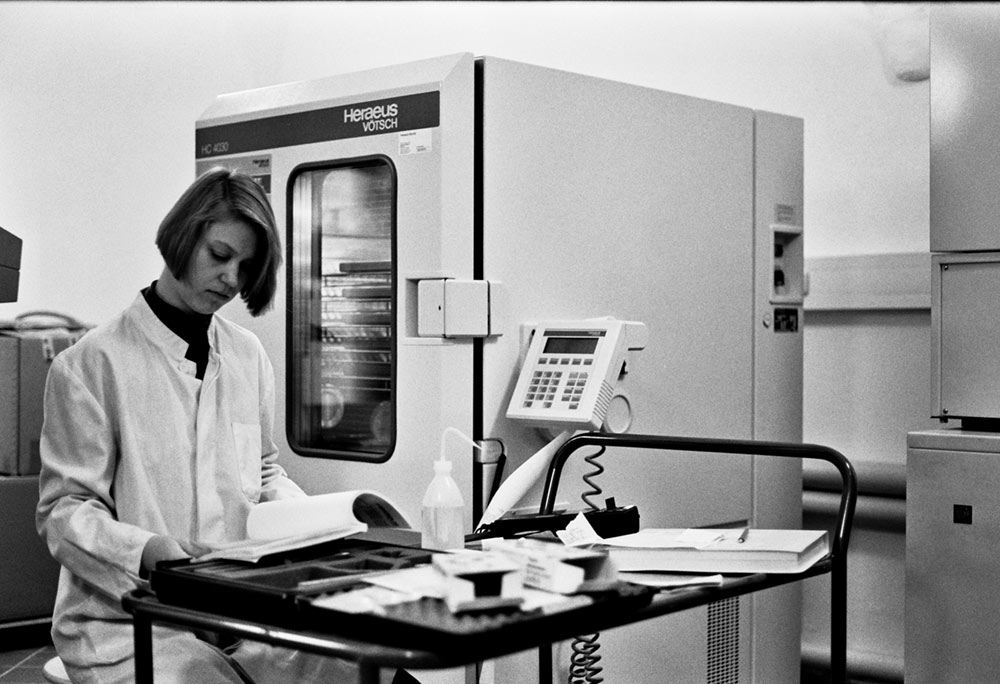 2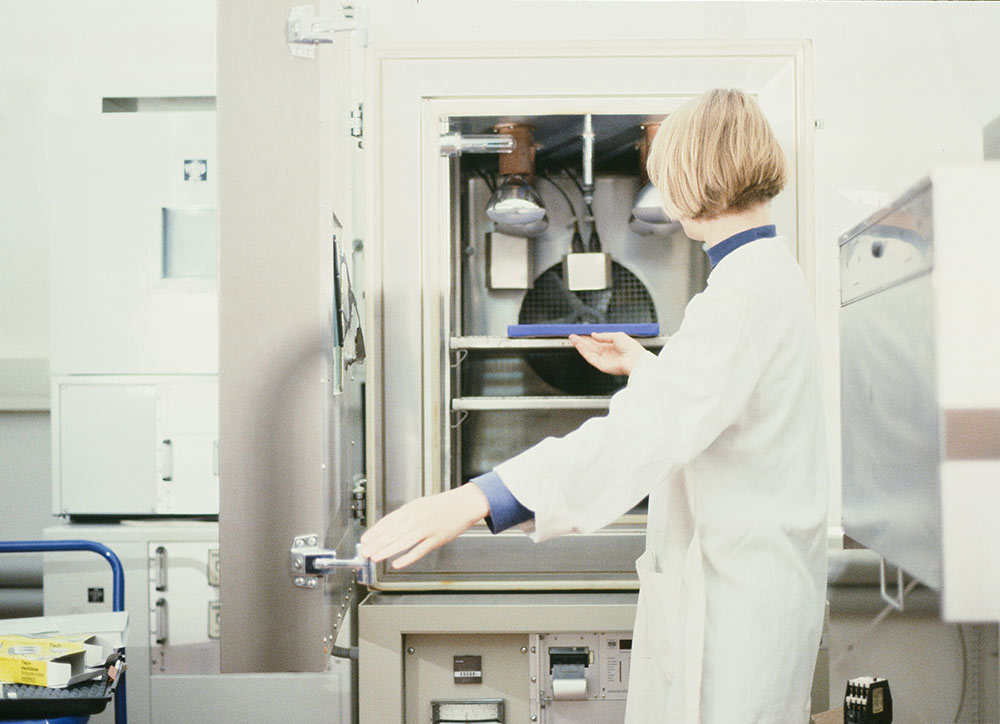 3 Im Modellversuch Blau werden Malereimodelle in einer Klimakammer im Landesamt für Denkmalpflege in München einem Stresstest unterzogen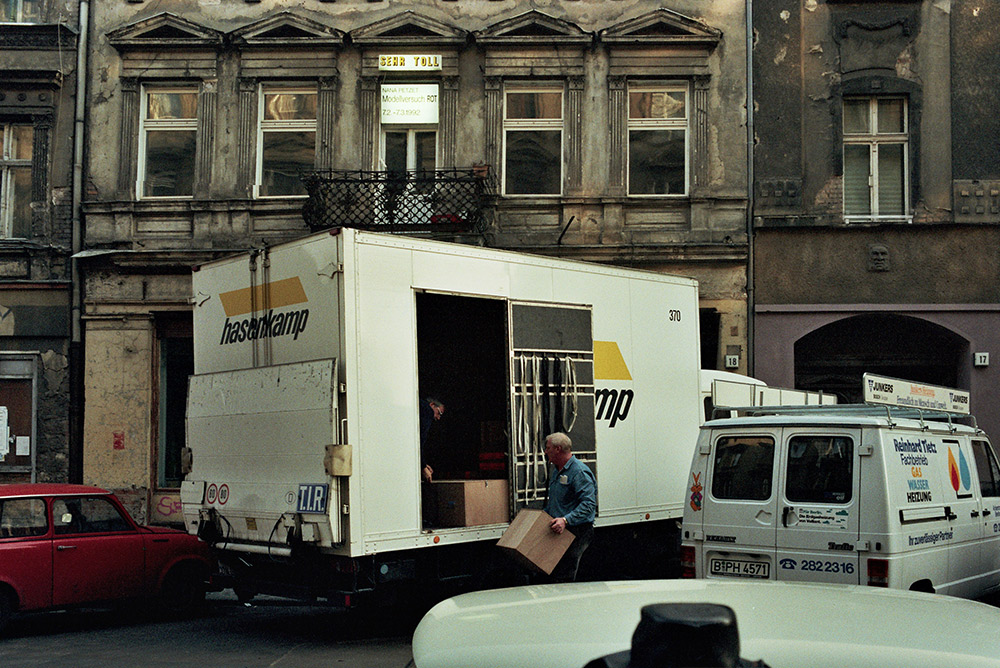 4 Erste Versuchsausstellung Februar 1992, Berlin, Galerie Art-Acker, Modelle 02-73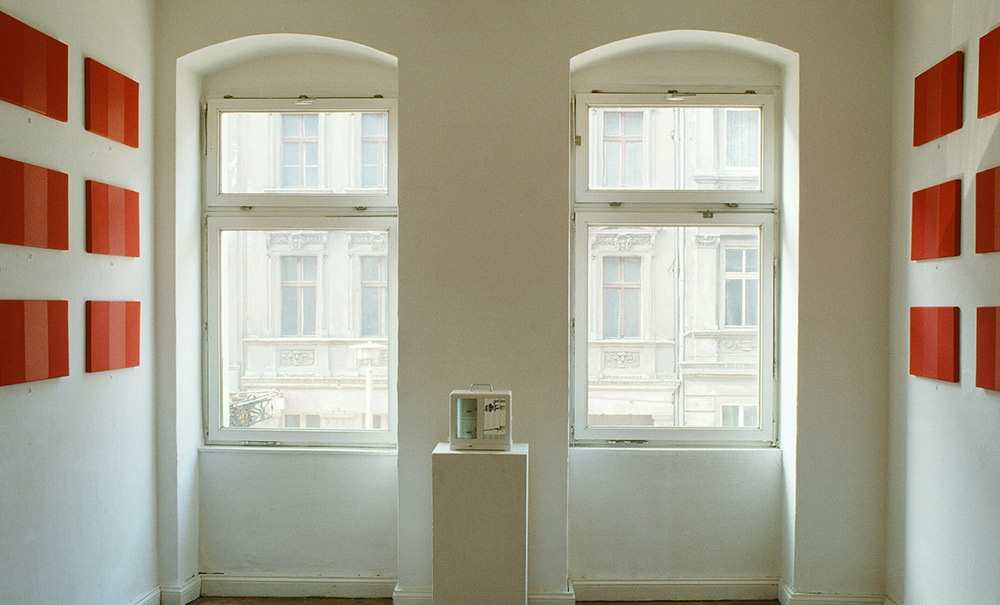 5 Thermohygrograph und Modelle, Berlin, Galerie Art-Acker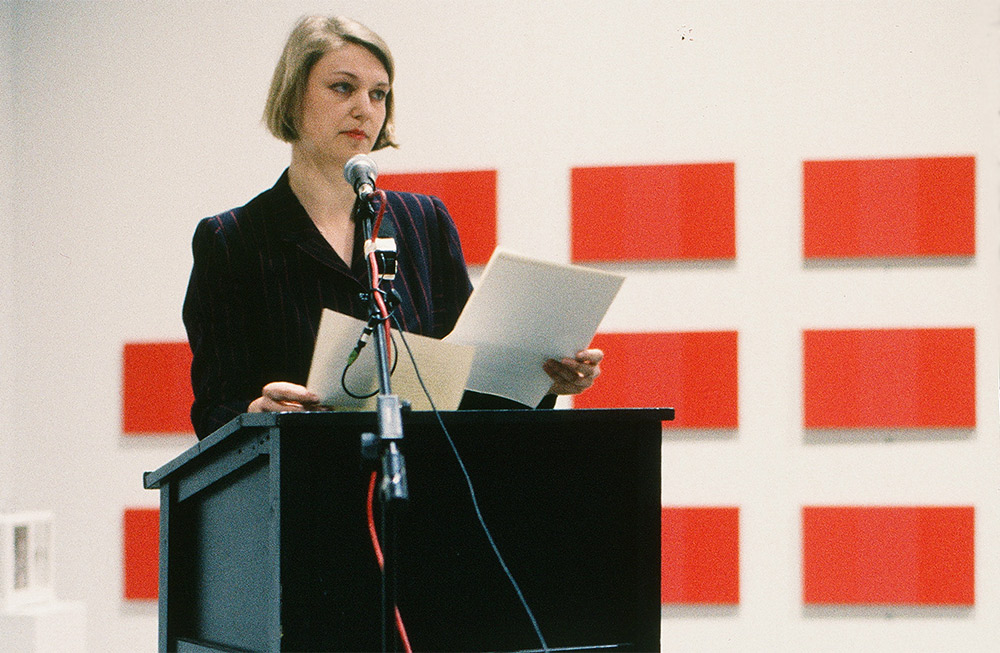 6 Ausstellung Nr. 2 März 1992, Hamburg, Kampnagelfabrik, Modelle 06-73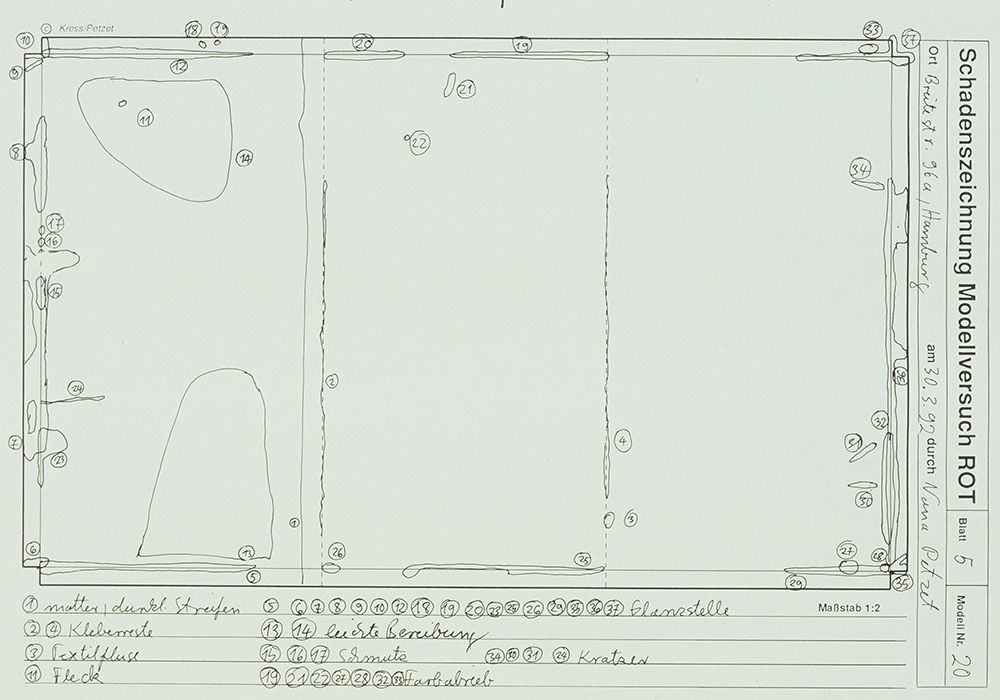 7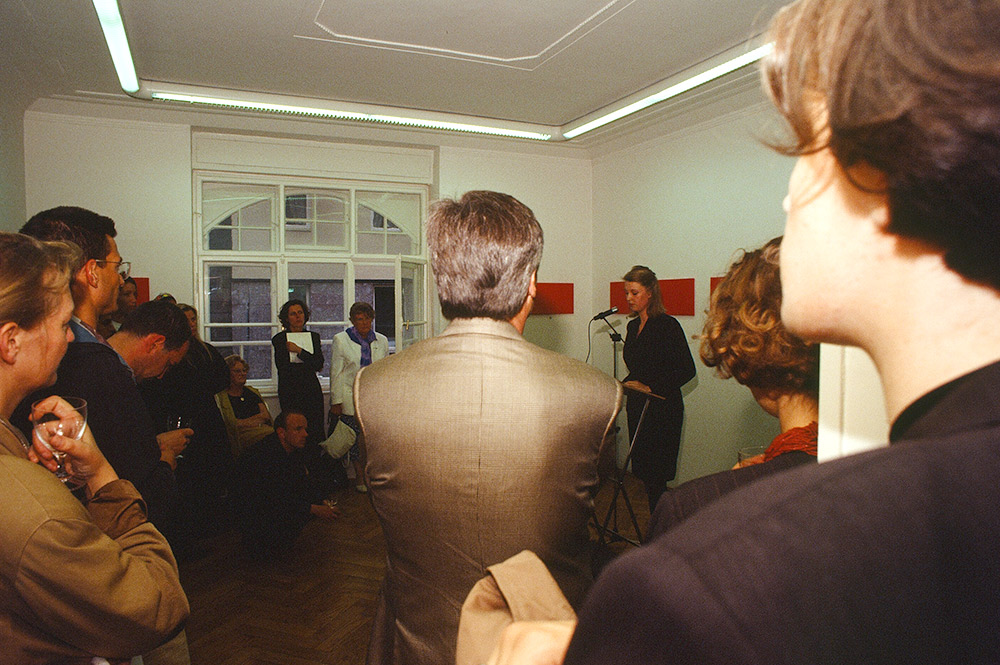 8 Vor allem bei den Eröffnungen waren die Modelle einem größeren Publikum ausgesetzt, 23.06.1993, Kunstraum München e.V.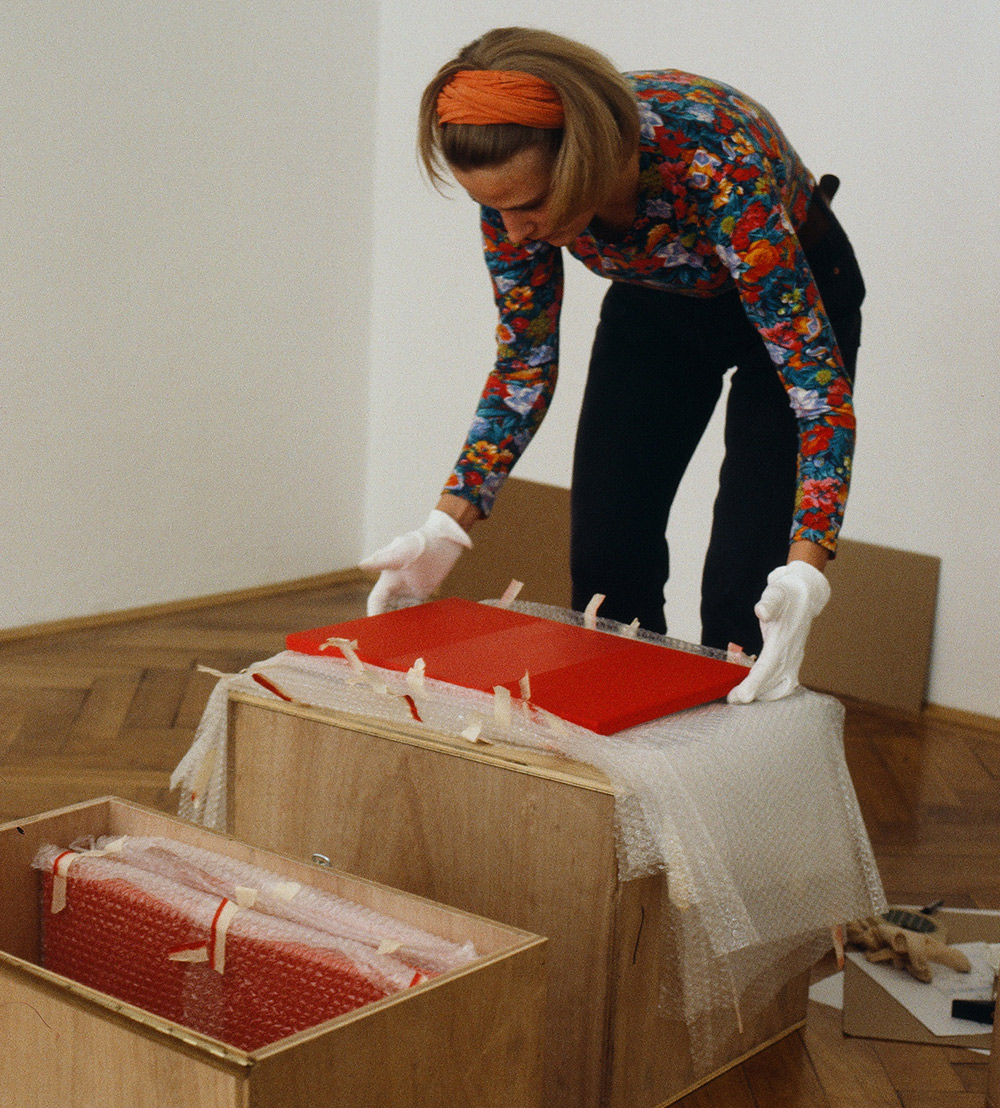 9
10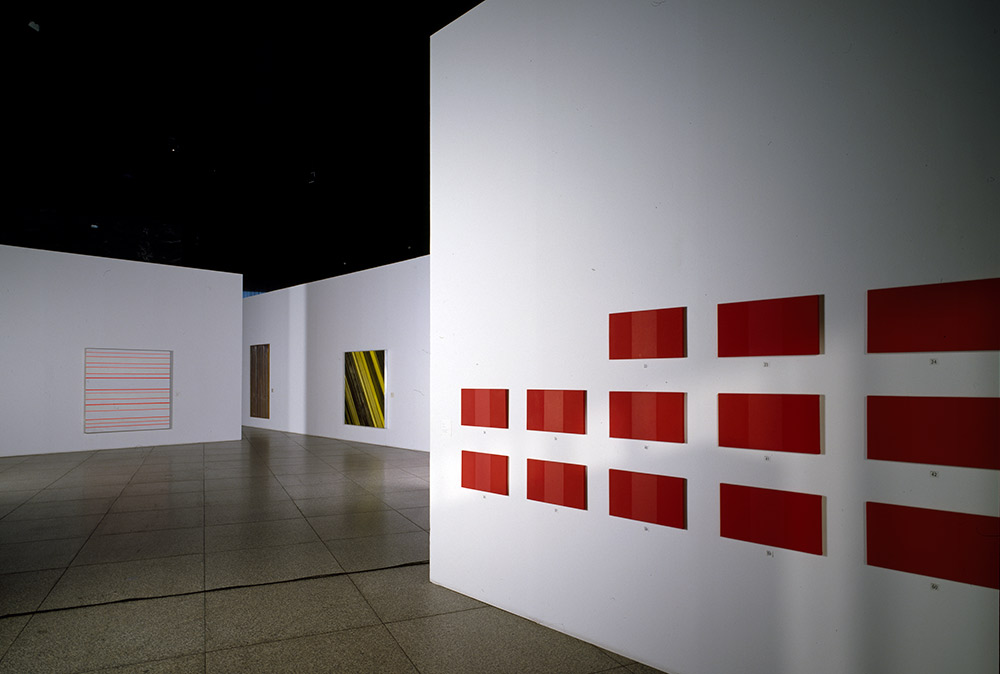 11 Eine Untersuchung zum Schicksal moderner Malerei im Alltag, 73 identische Gemälde (Modell Nr. 1-73), Dispersion, Öl, Eitempera auf Leinwand 30x50cm, Thermohygrograph. Feldversuch seit 1991, Ausstellung "Integrale Kunstprojekte" Nationalgalerie Berlin 1993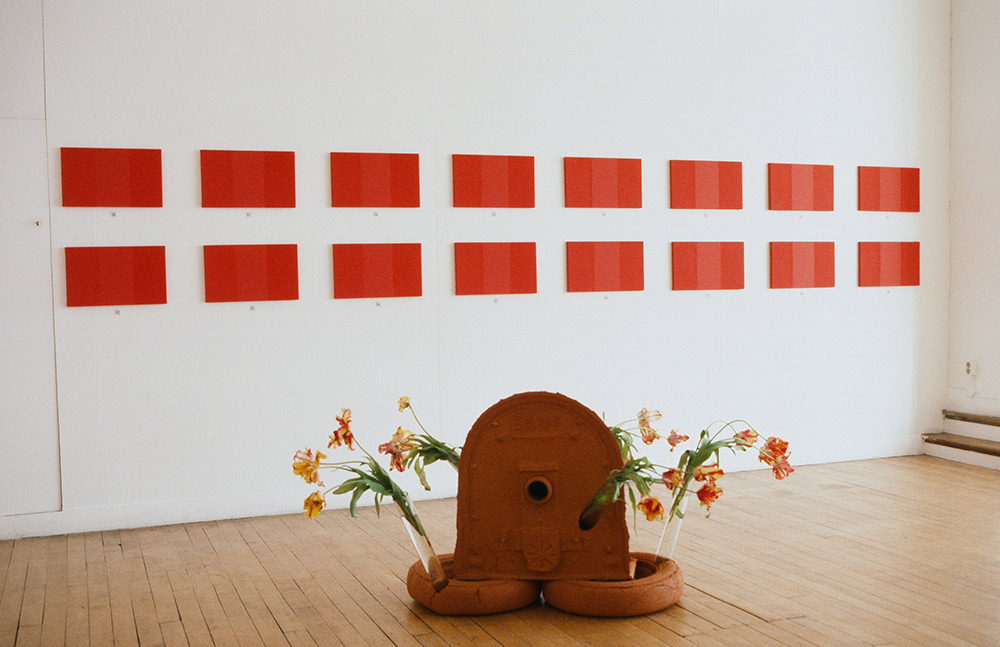 12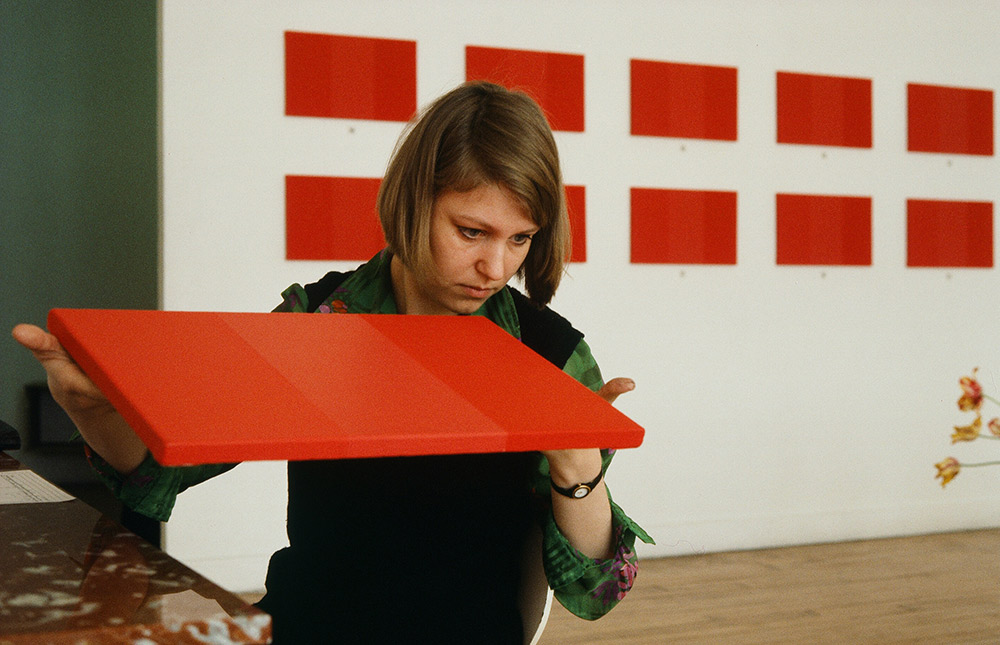 13 Nana Petzet fertigt Schadensprotokoll an. Galerie Paul Andriesse, Amsterdam 1994
14 Mikroskopische Aufnahme Modell Nr. 6, 12-fache Vergrößerung: Farbrisse, schmutzigglänzende Bereibung auf den Leinwandnoppen, Dörnerinstitut München 1992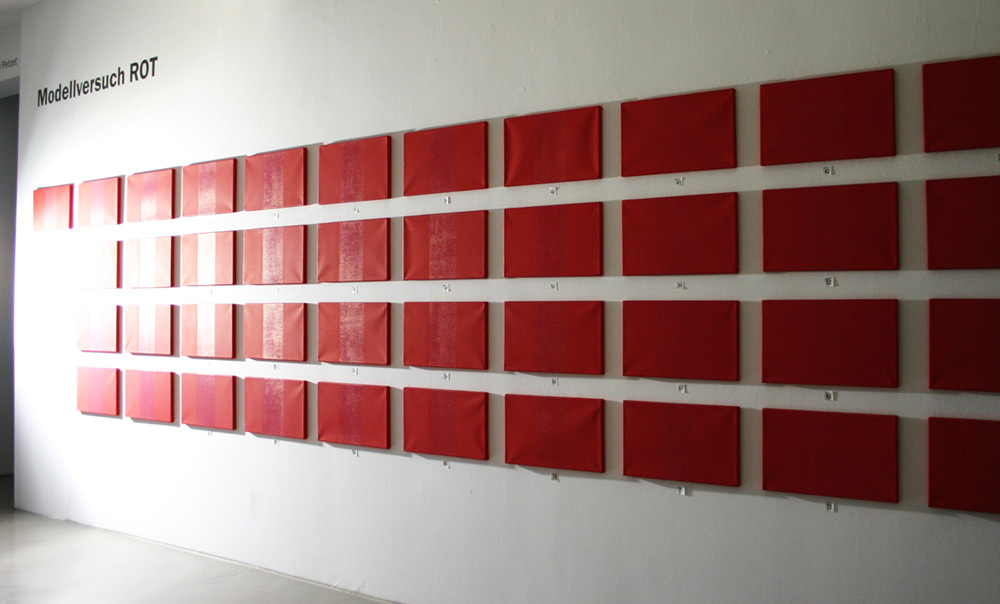 15 Neues Museum Weserburg Bremen, 2006, in der Ausstellung Stabile Seitenlage waren die Modelle mehrere Monate einem sehr trockenen Klima ausgesetzt, am Ende der Ausstellung bot sich ein deutliches Schadensbild dar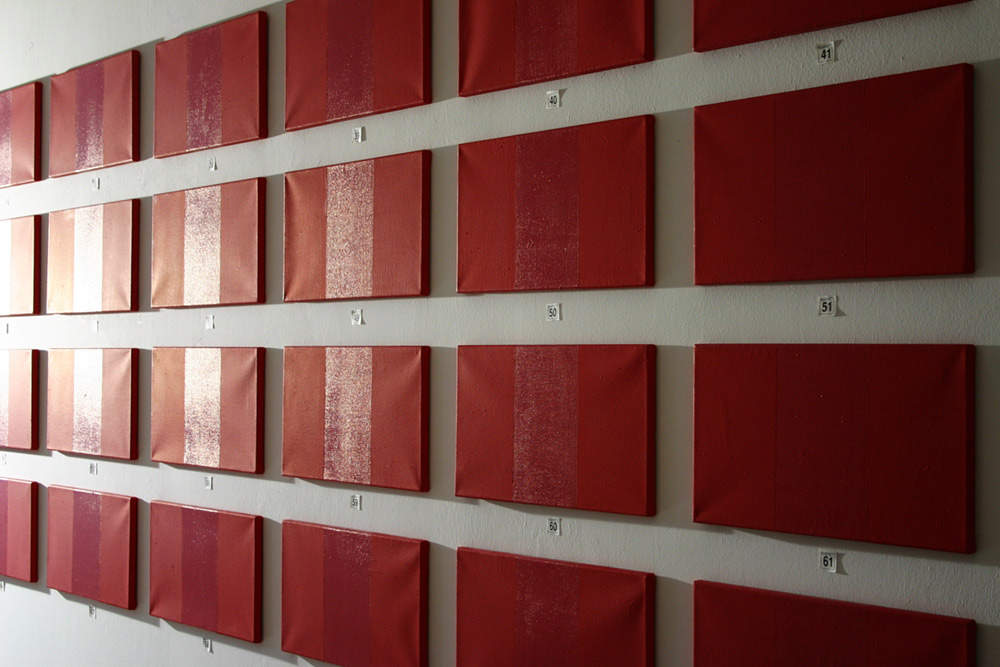 16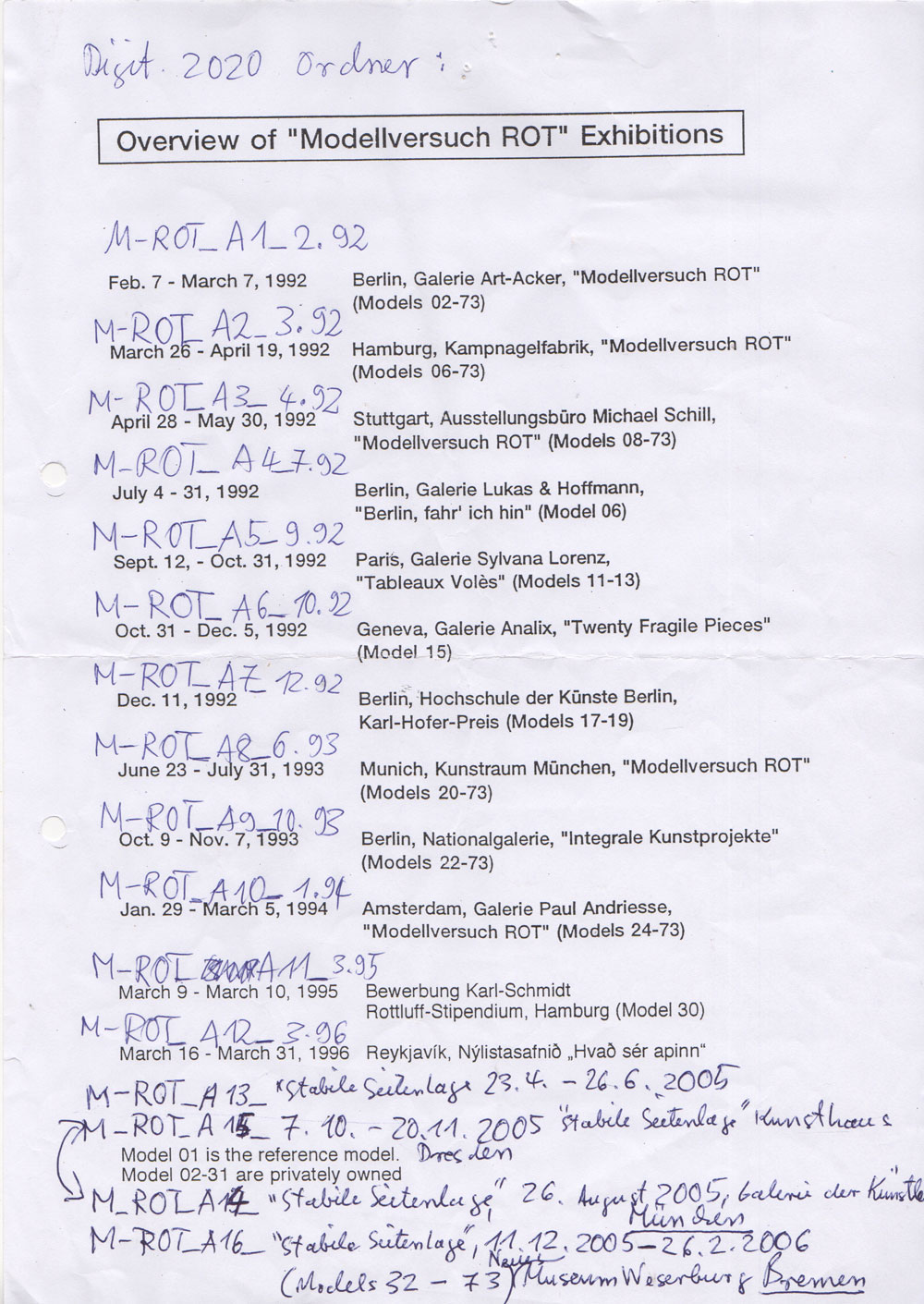 17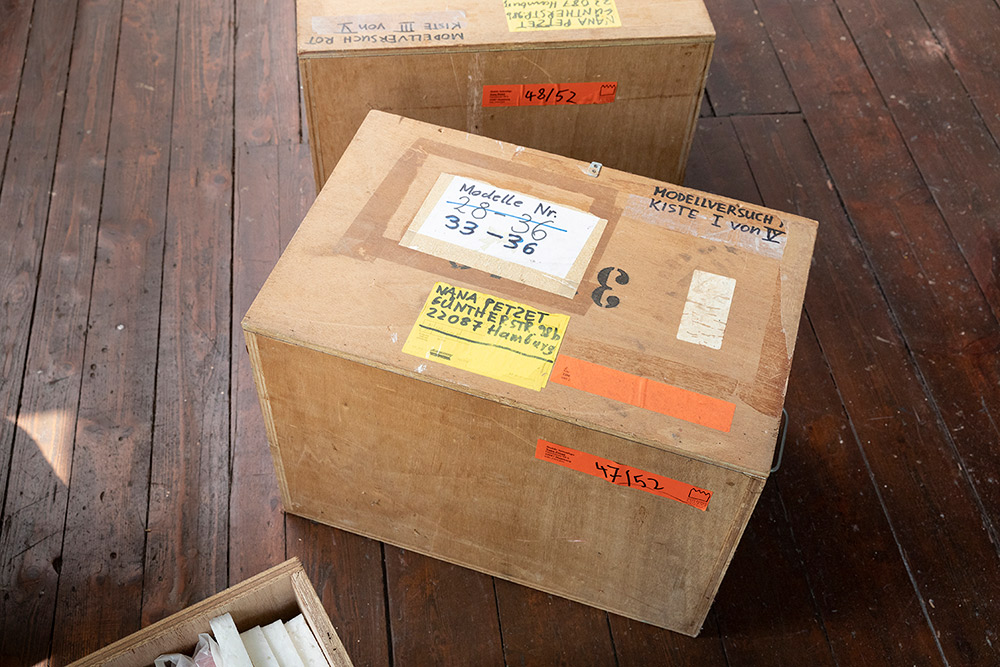 18 Zustandskontrolle Modellversuch Rot im hamburger Lager 2020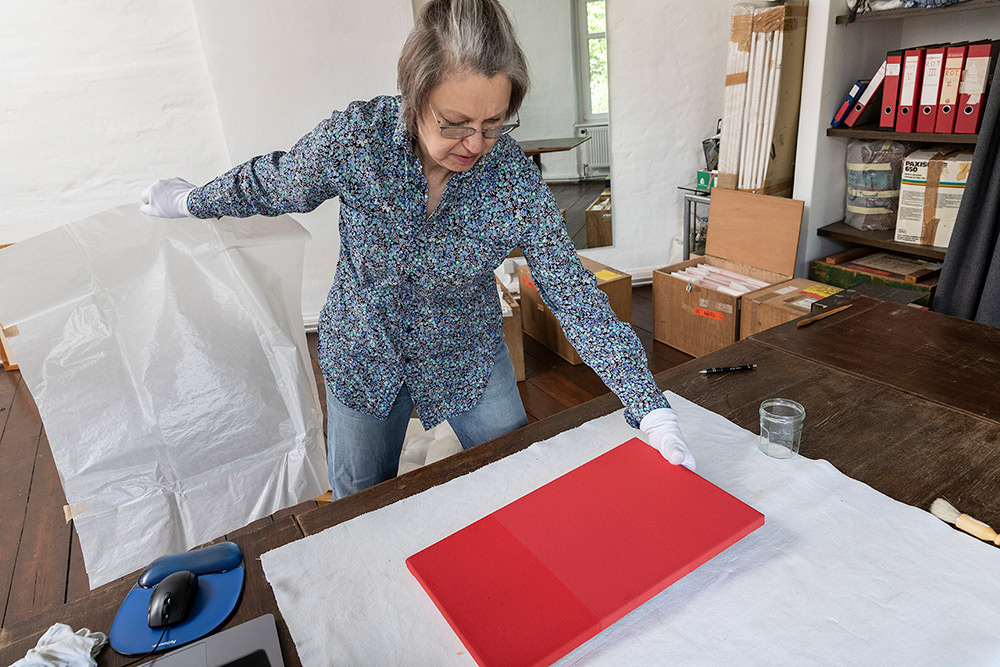 19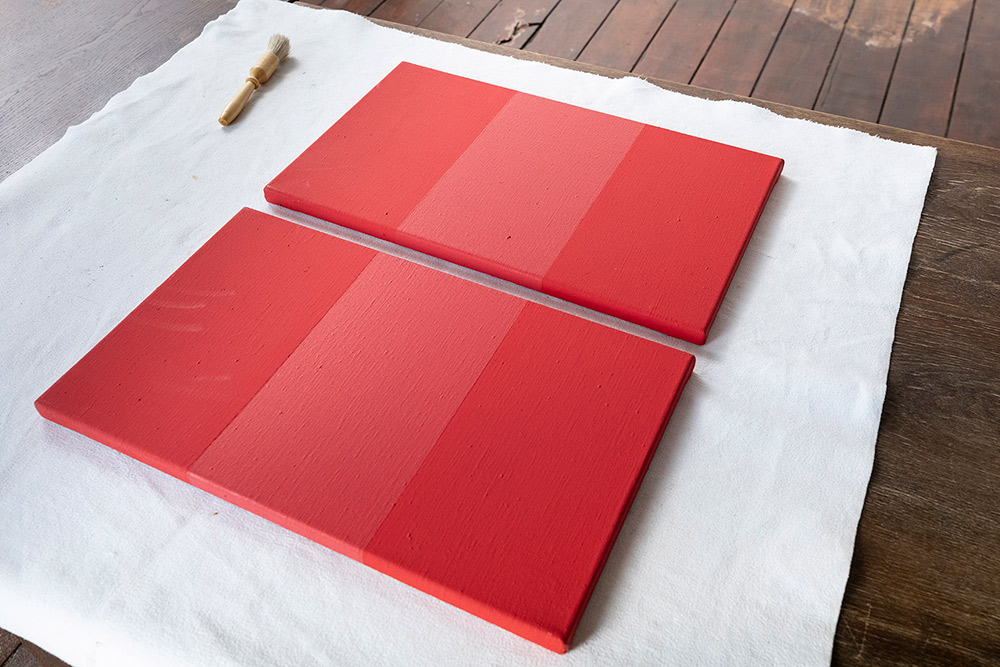 20

Fig. 1, 8, 9, Photo: Olafur Gislason
Fig. 2, 3, 5, Photo: Christiane Meyer-Stoll
Fig. 4, 7, 17, Photo: Nana Petzet
Fig. 6, Photo: Quirin Leppert
Fig. 10, Photo: Regina Schubert
Fig. 11, Photo: Bernd Sinterhauf
Fig 12, 13, Photo: Paul Andriesse
Fig. 14, Photo: Susanne Willisch
Fig. 15, 16 Photo: Artur Ketnath
Fig. 18, 10, 20, Photo: Helge Mundt