Model Test RED
An exploration on the destiny of modern painting in every-day life
Model Test RED examined the aging properties of modern paintings using the example of monochrome painting. For this purpose, Nana Petzet created 73 monochrome paintings. Each painting was subdivided into three sections, featuring the three most commonly applied painting techniques. All phases of development were accurately documented and individual divergences were noted. While exemplar No. 1, as a reference exemplar, was stored under ideal conservation conditions, the other paintings have, since the beginning of the test on 6 December 1991, been presented in a total of 14 solo and group shows in Germany, France, Switzerland and the Netherlands. The aging process of the models was examined and documented at regular intervals. Important stations of the Model Test RED were: Galerie Sylvana Lorenz, Paris, 1992; Galerie Analix, Geneva, 1992; Kunstraum München, 1993 and Nationalgalerie Berlin, 1993. Particularly after the as yet final presentation at the Weserburg Museum für moderne Kunst, a consistent pattern of damage became evident. Art may, therefore, provide ideal grounds for experimental arrangements, if and when it is placed fully to the service of its own scientific exploration.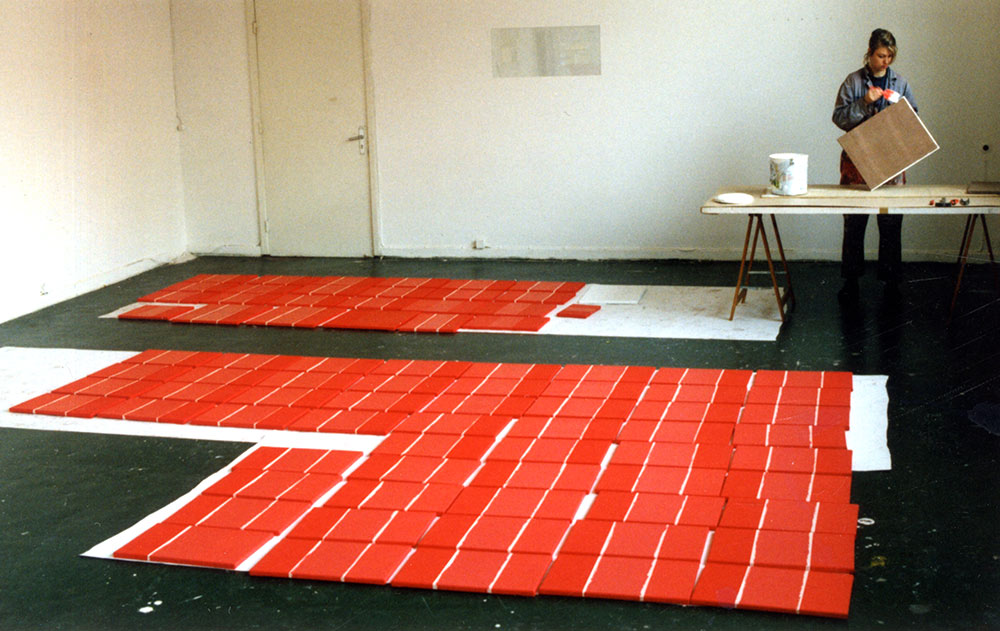 1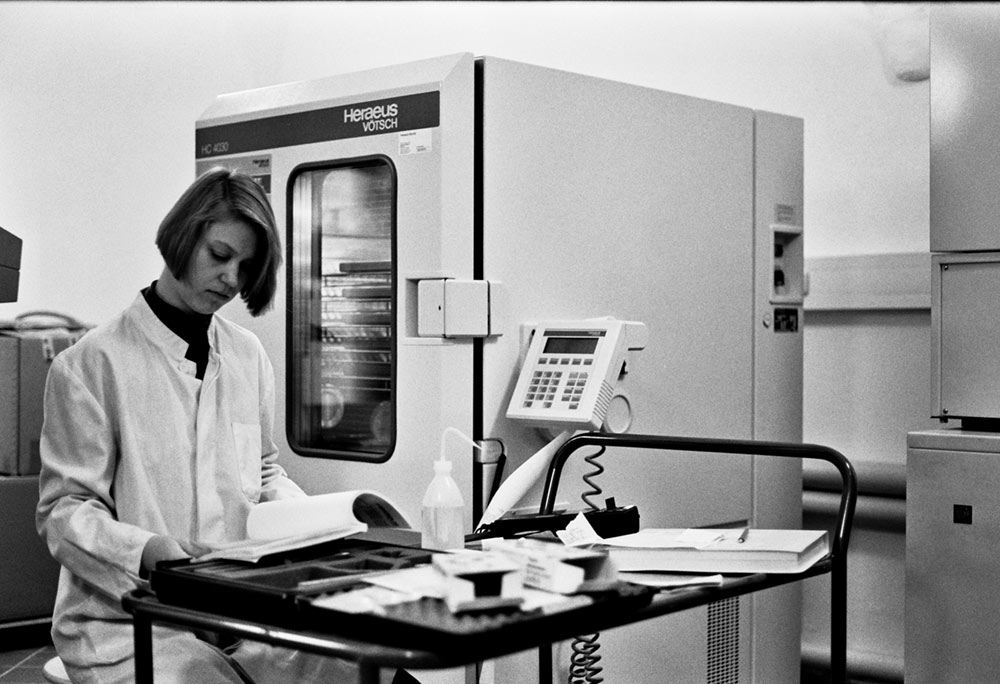 2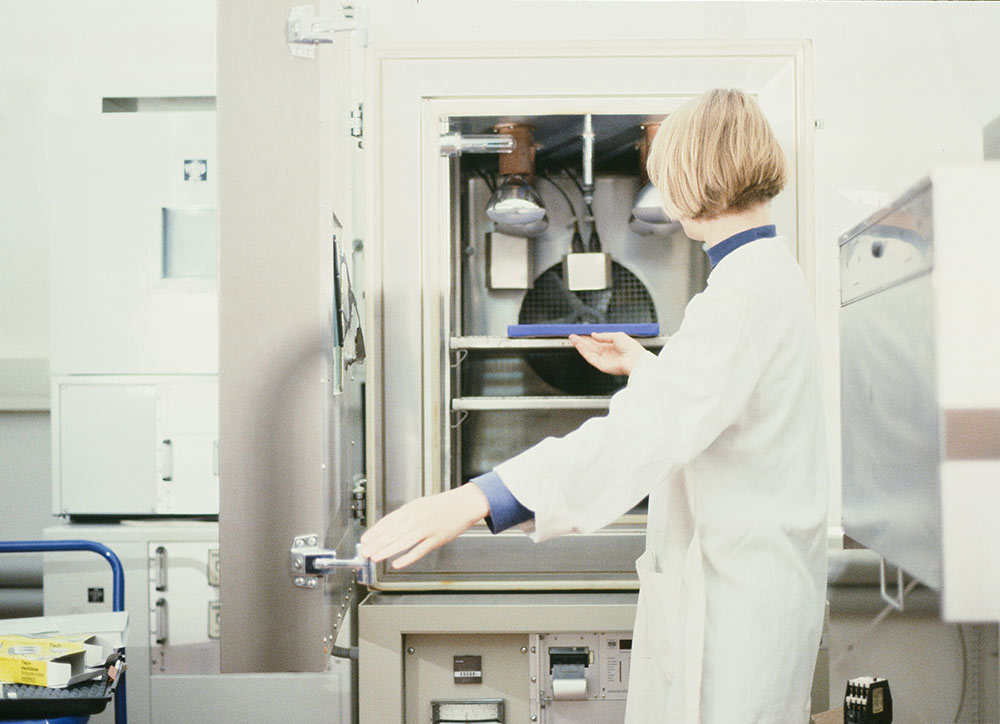 3 In the Model Test BLUE, painting models were subjected to a stress test in a climate chamber at the State Office for the Preservation of Monuments in Munich.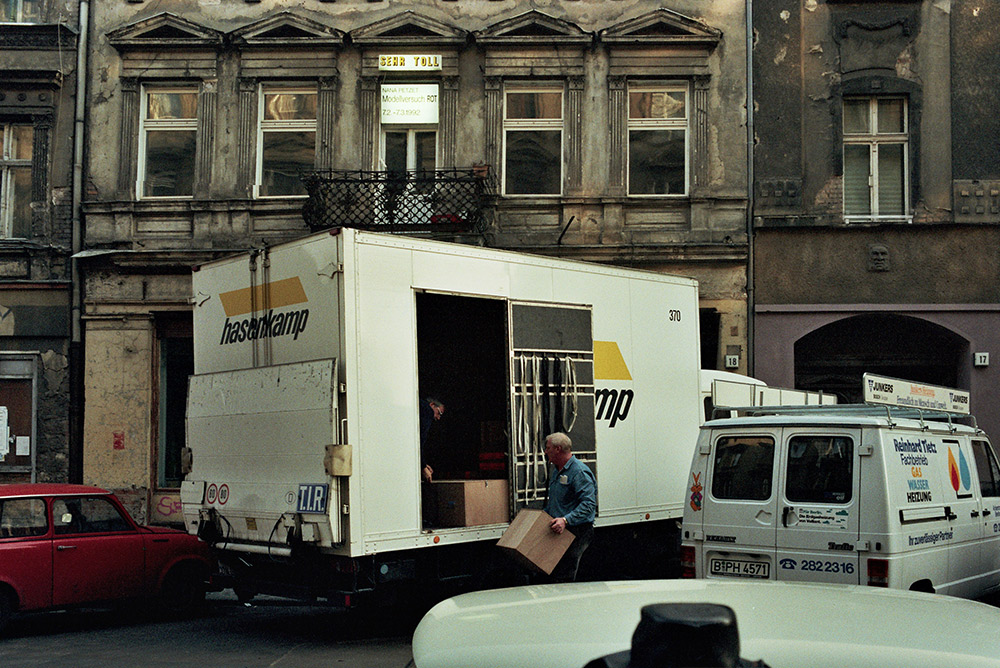 4 First experimental exhibition, February 1992, Galerie Art-Acker, Berlin, models 02-73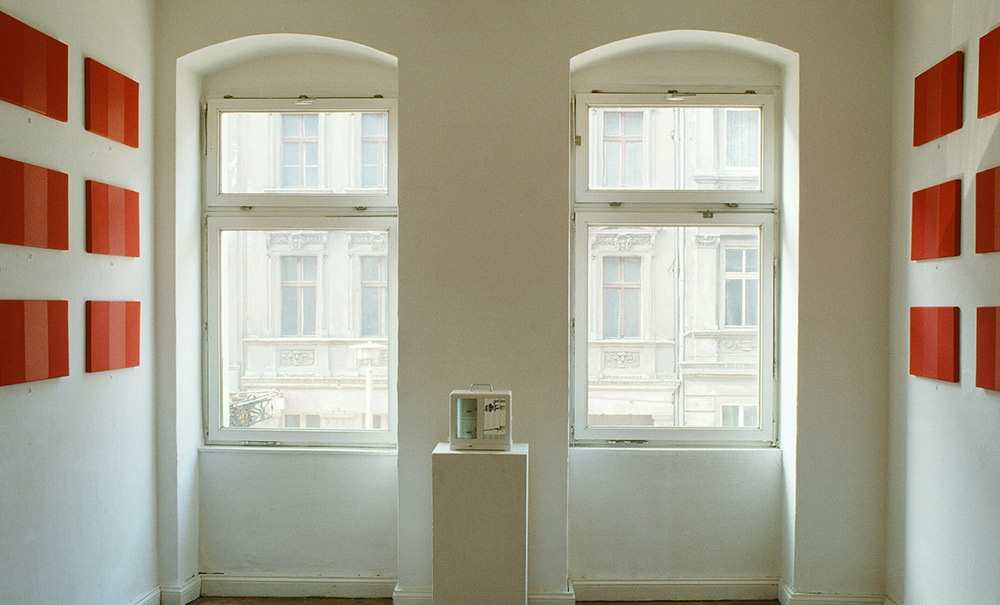 5 Thermo-hygrograph and models, Galerie Art-Acker, Berlin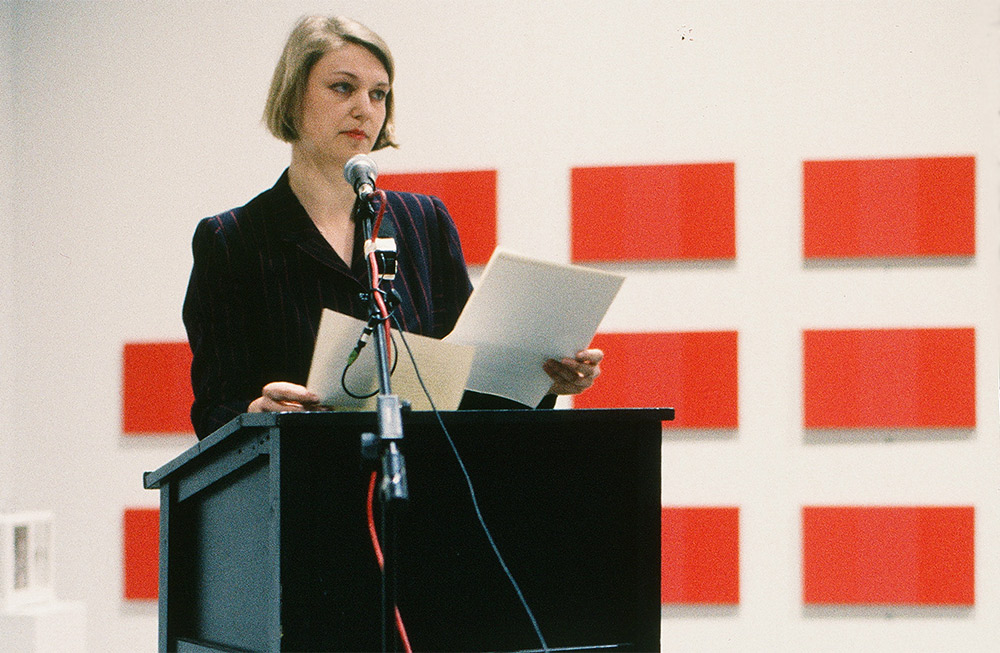 6 Exhibition no. 2, March 1992, Kampnagel Internationale Kulturfabrik, Hamburg, models 06-73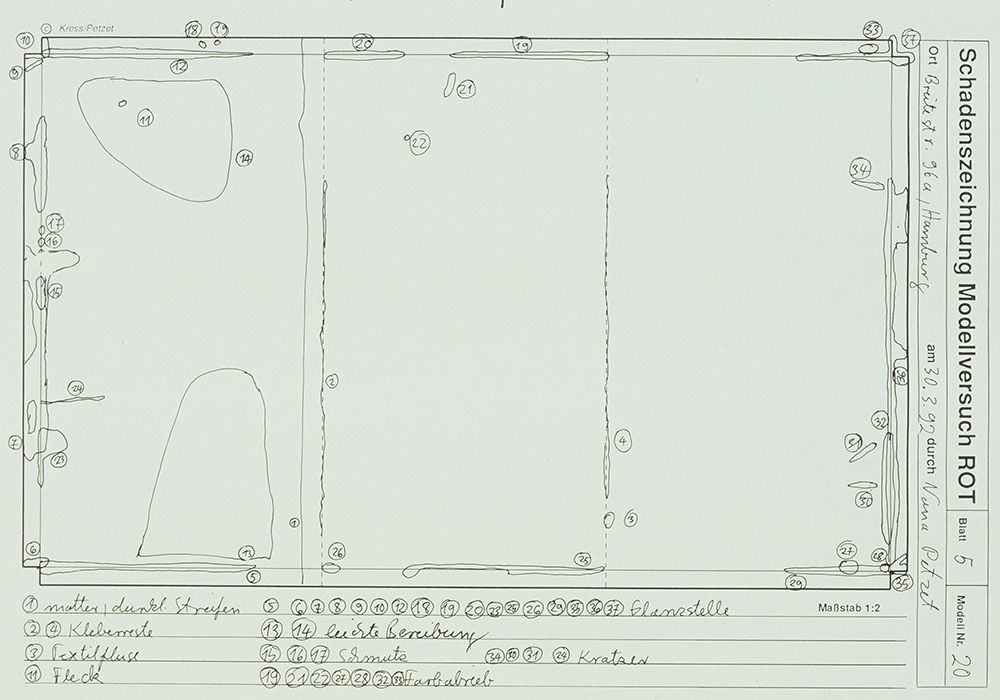 7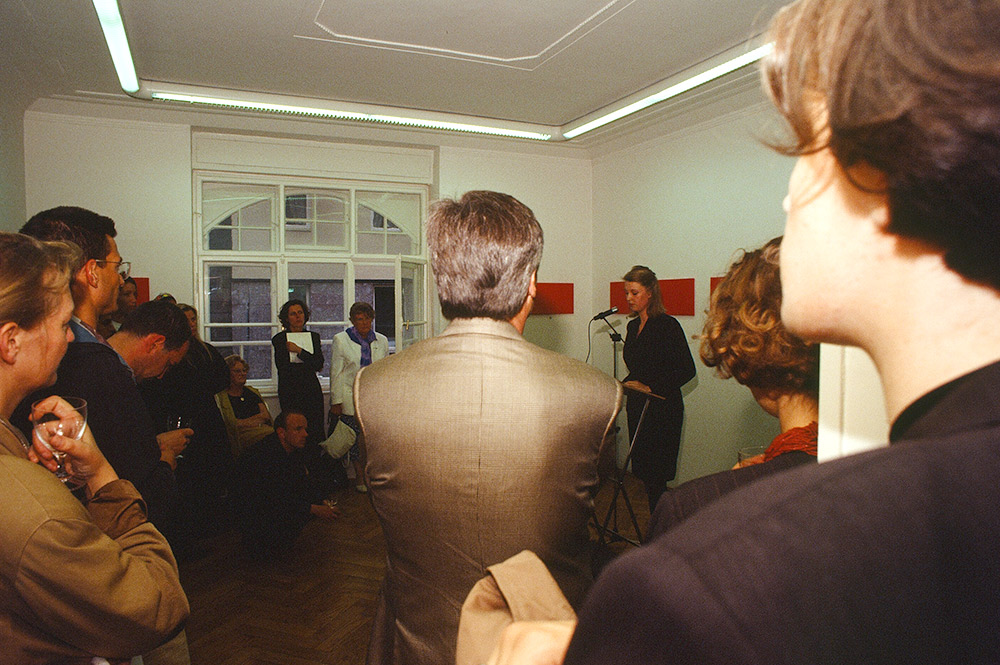 8 Especially at the openings, the models were exposed to a larger audience, 23.06.1993, Kunstraum München e.V.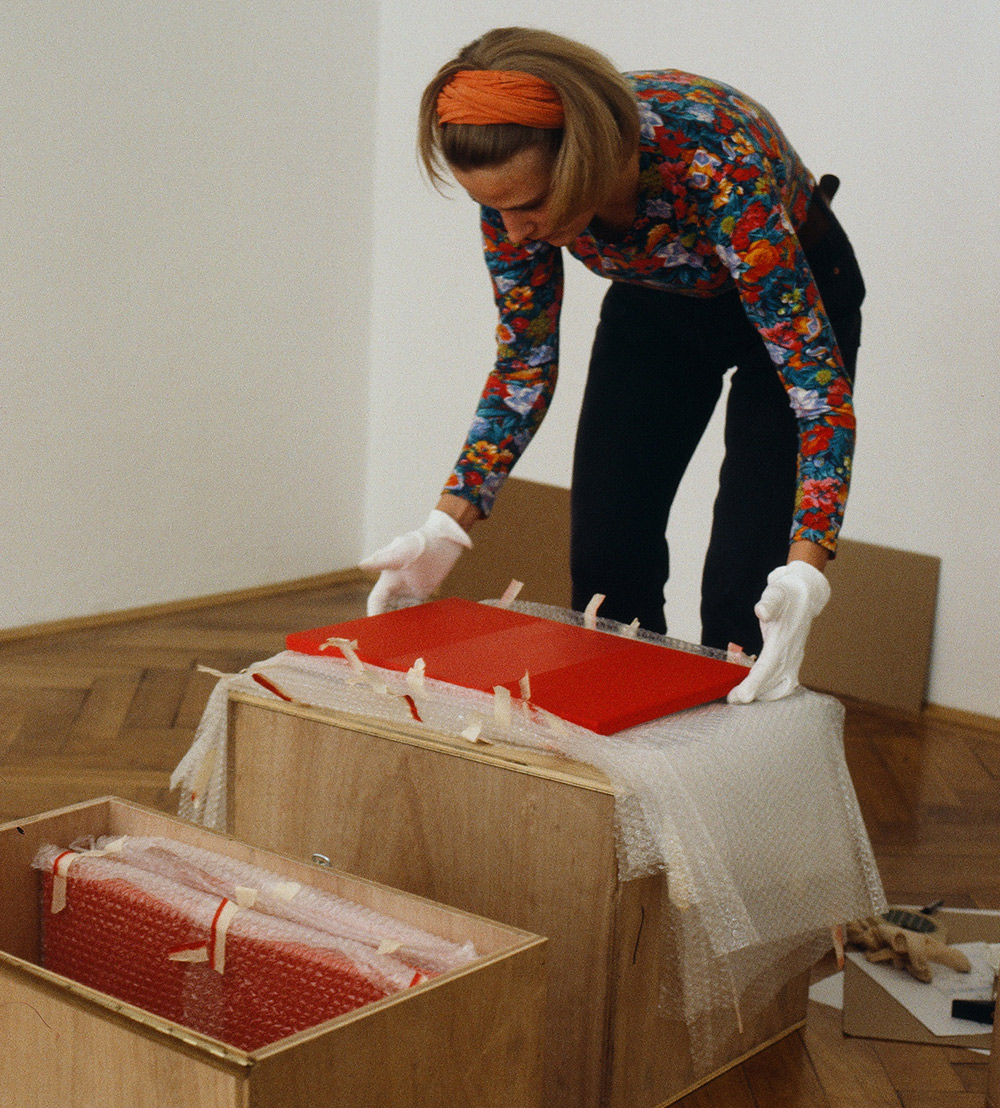 9
10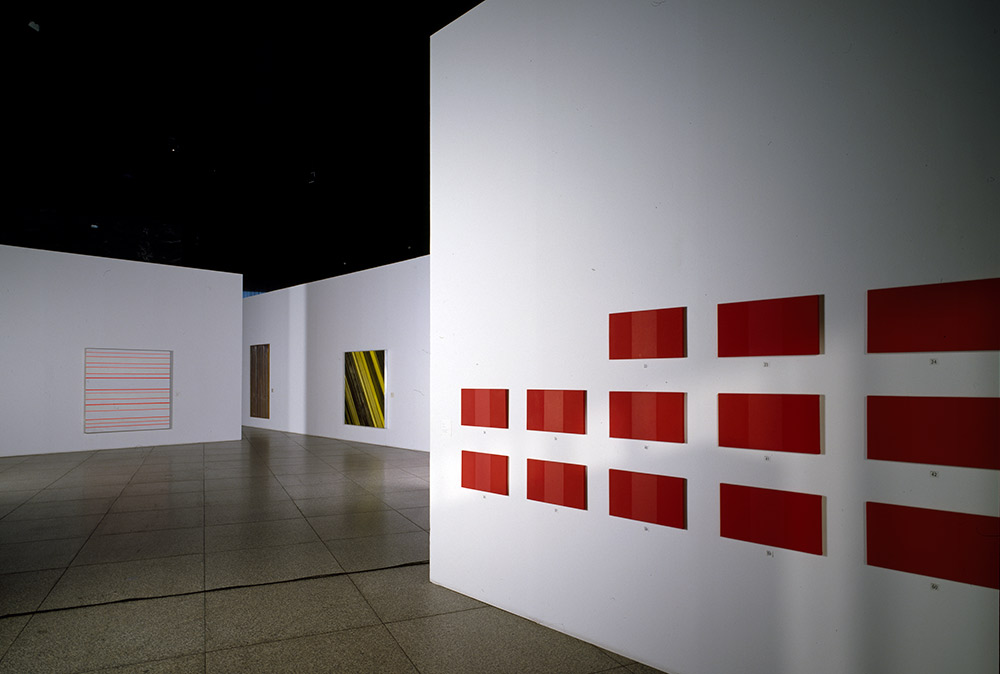 11 An Investigation Into the Fate of Modern Painting in Everyday Life, 73 identical paintings (models no. 1-73), emulsion paint, oil paint, egg tempera on canvas 30 x 50 cm, thermo-hygrograph. Field test as from 1991, exhibition Integrale Kunstprojekte, Neue Nationalgalerie, Berlin, 1993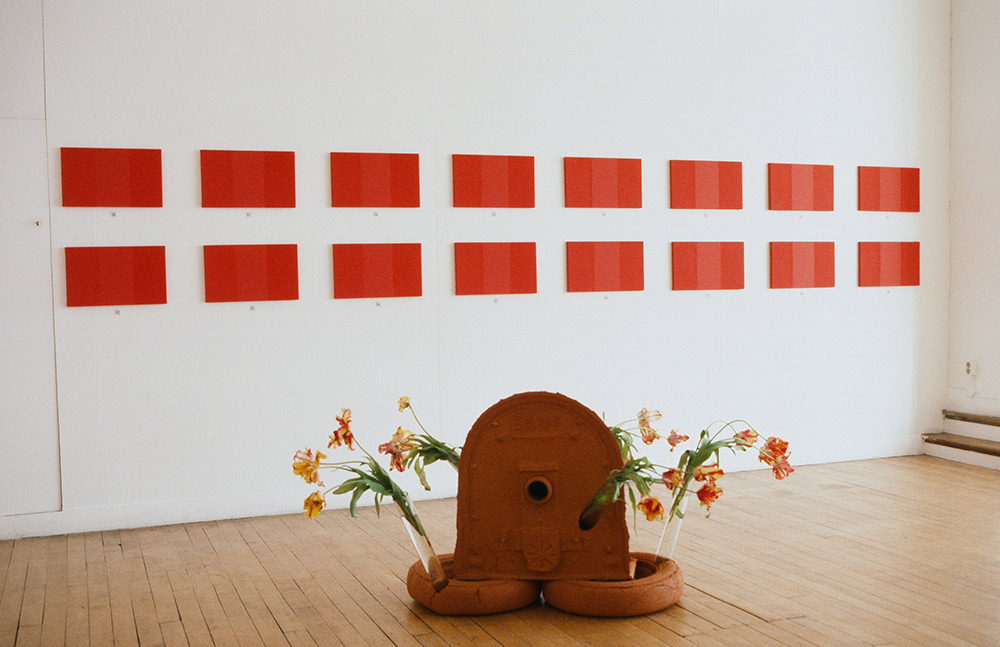 12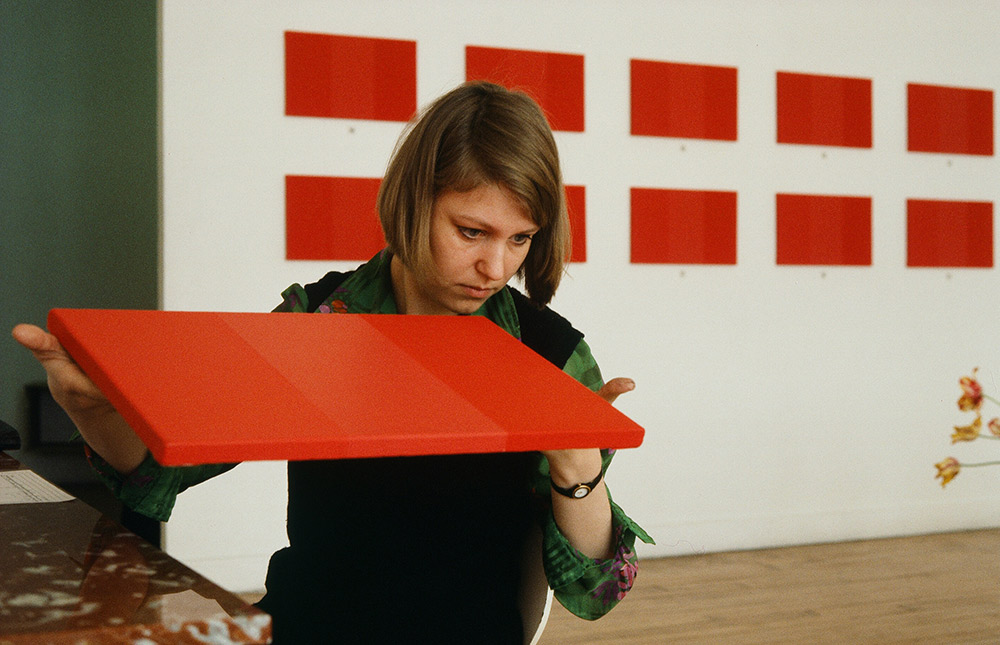 13 Nana Petzet provides a damage report. Gallery Paul Andriesse, Amsterdam, 1994
14 Microscopic image of model no. 6, 12 x magnification: paint cracks, dirty and shiny traces of rubbing on the canvas nubs, Dörner Institut, Munich, 1992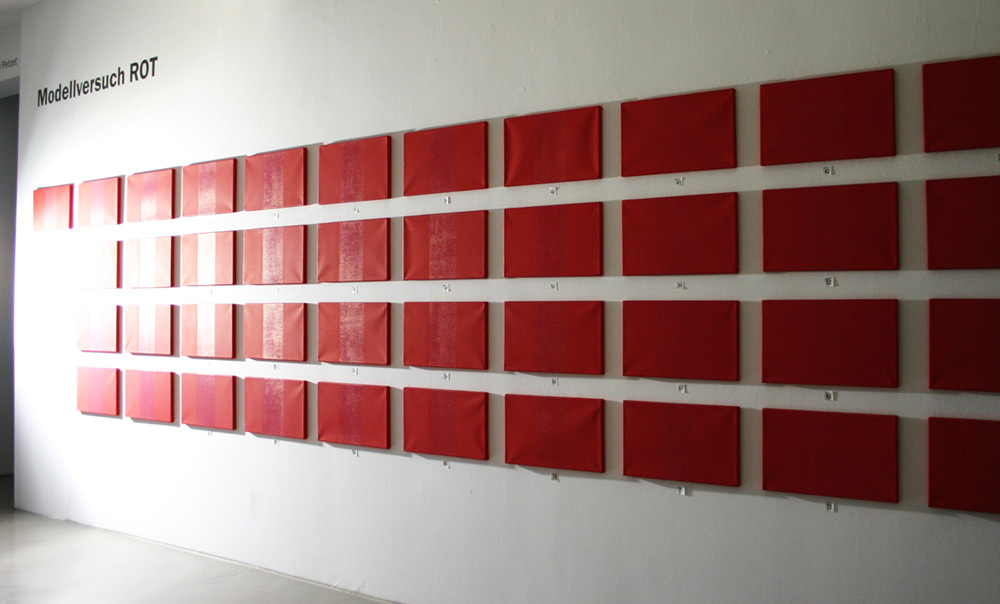 15 Weserburg Museum für moderne Kunst, Bremen, in 2006: in the exhibition Stabile Seitenlage, the models were exposed to a very dry climate for several months; symptoms of damage clearly manifested at the end of the exhibition.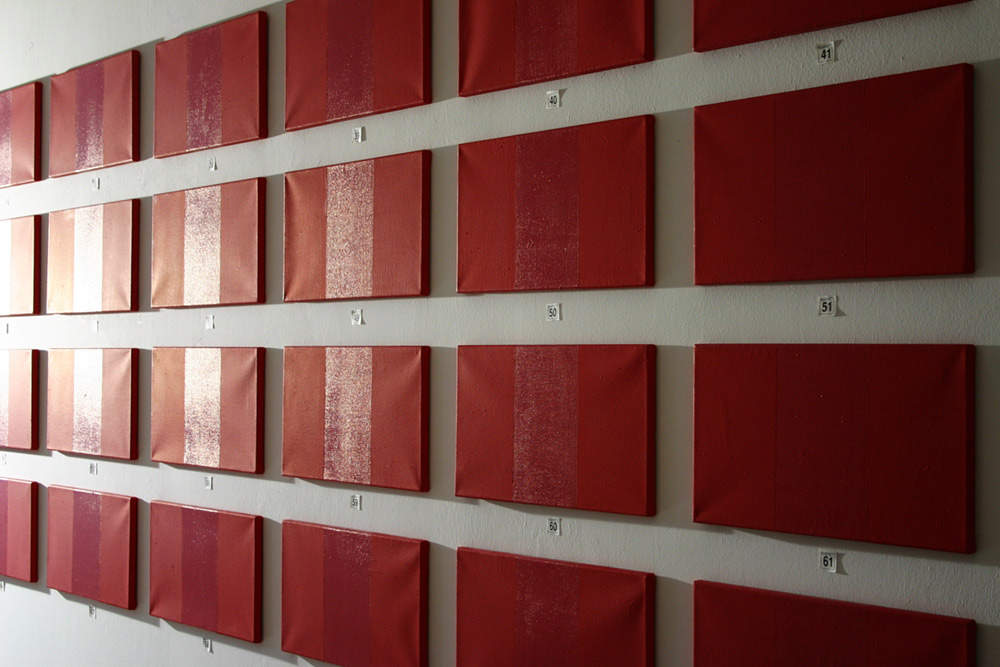 16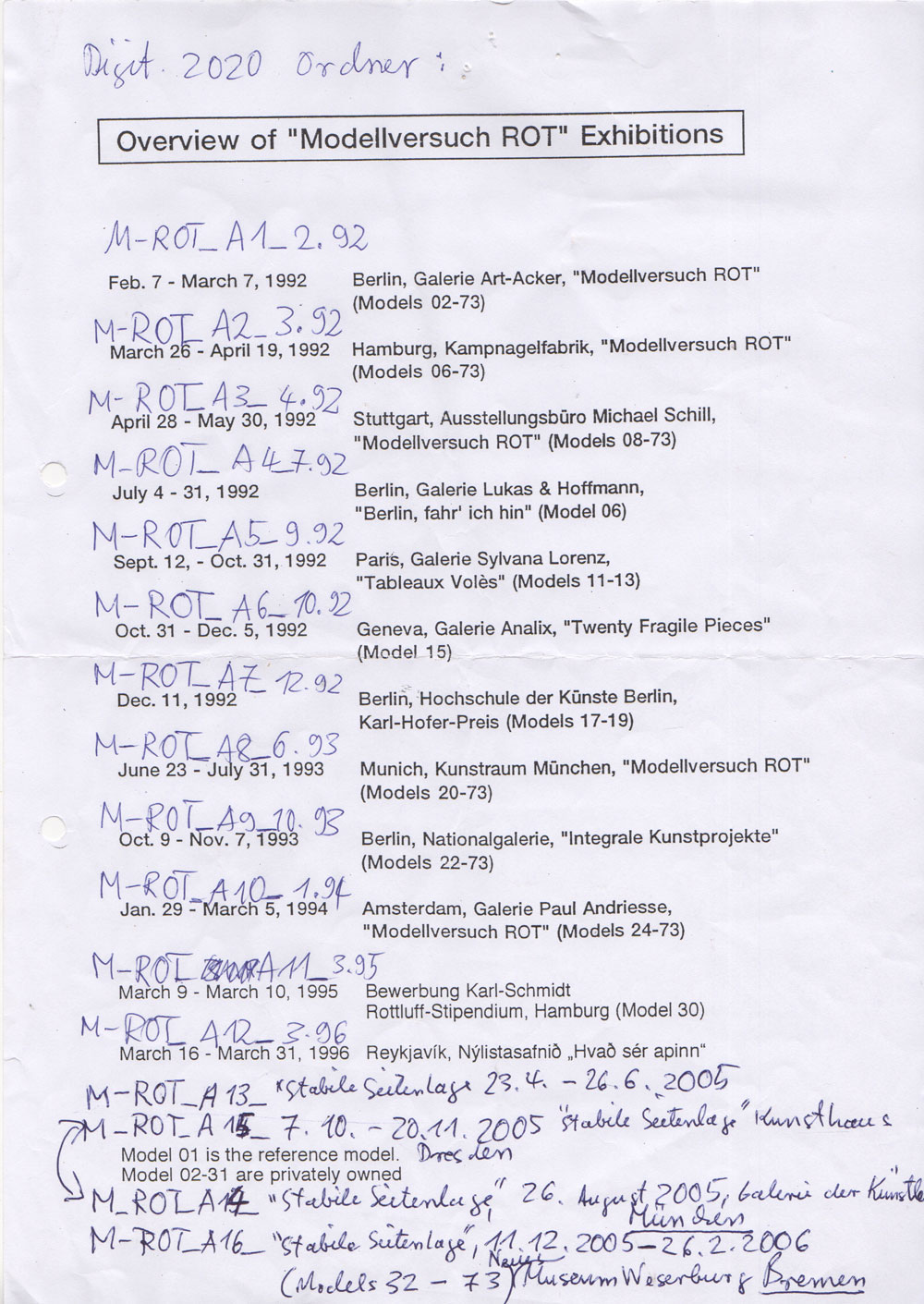 17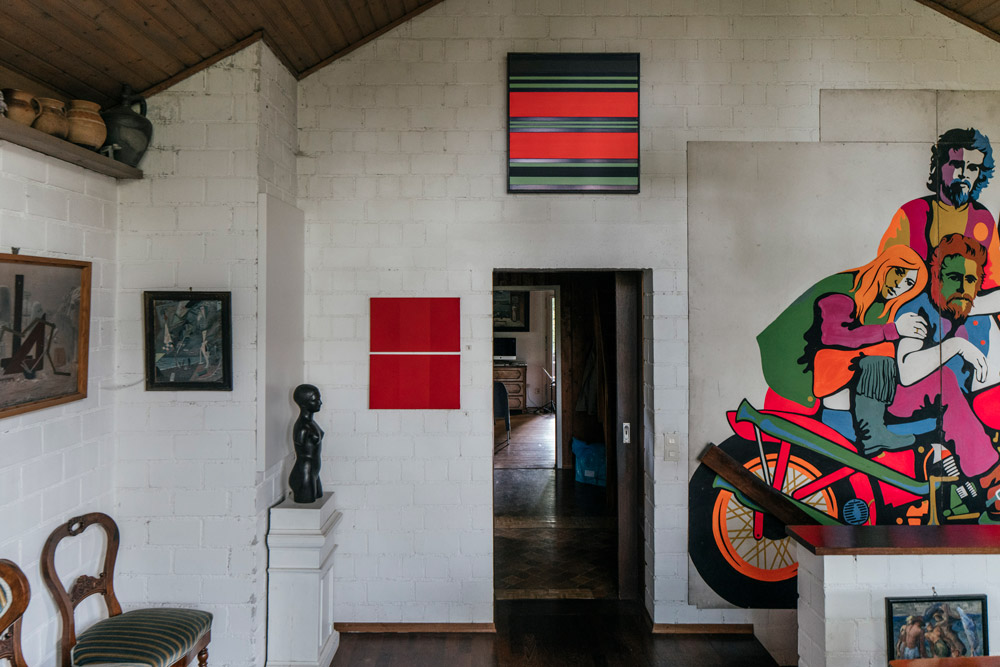 18 From February 1992 to July 1993, 18 models were sold to individuals and galleries in numerical order. Here model no.4 and model no.5, taken in August 2021 in a private collection in Krailling near Munich.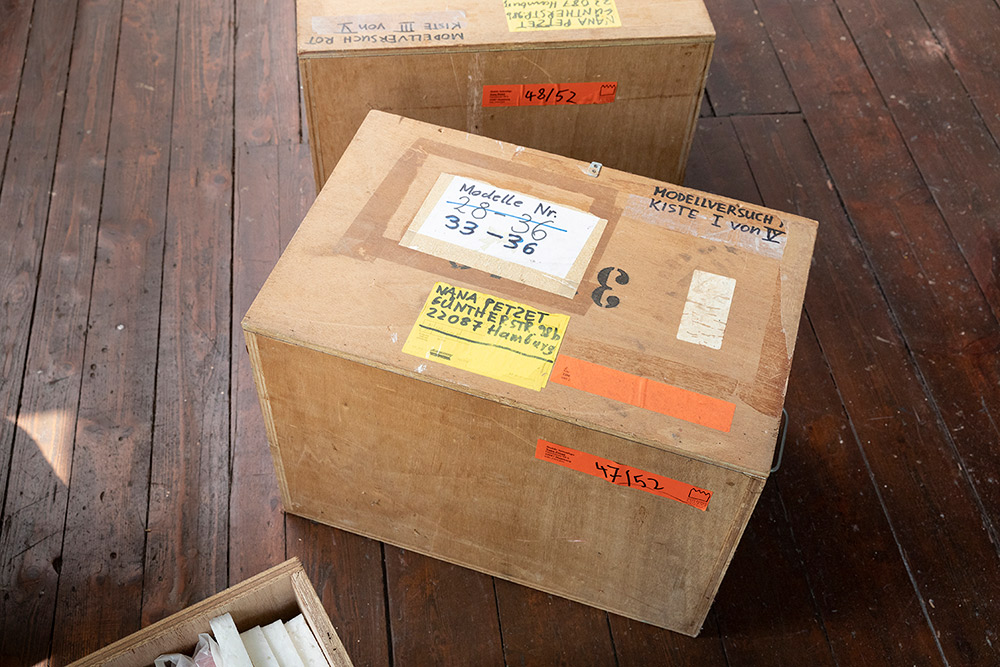 19 Model Test RED: monitoring the condition in the Hamburg warehouse in 2020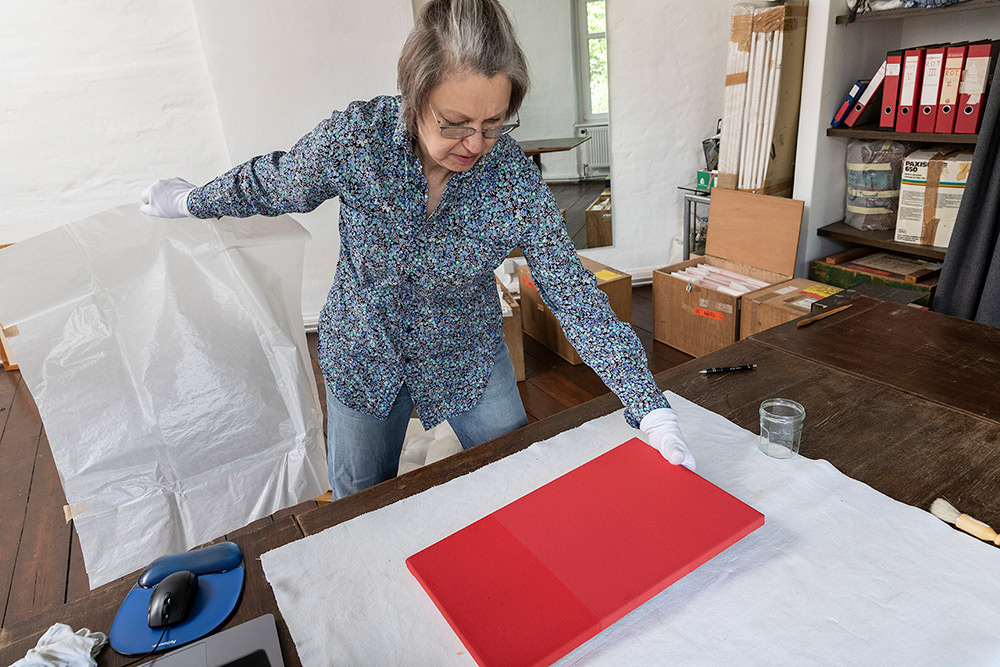 20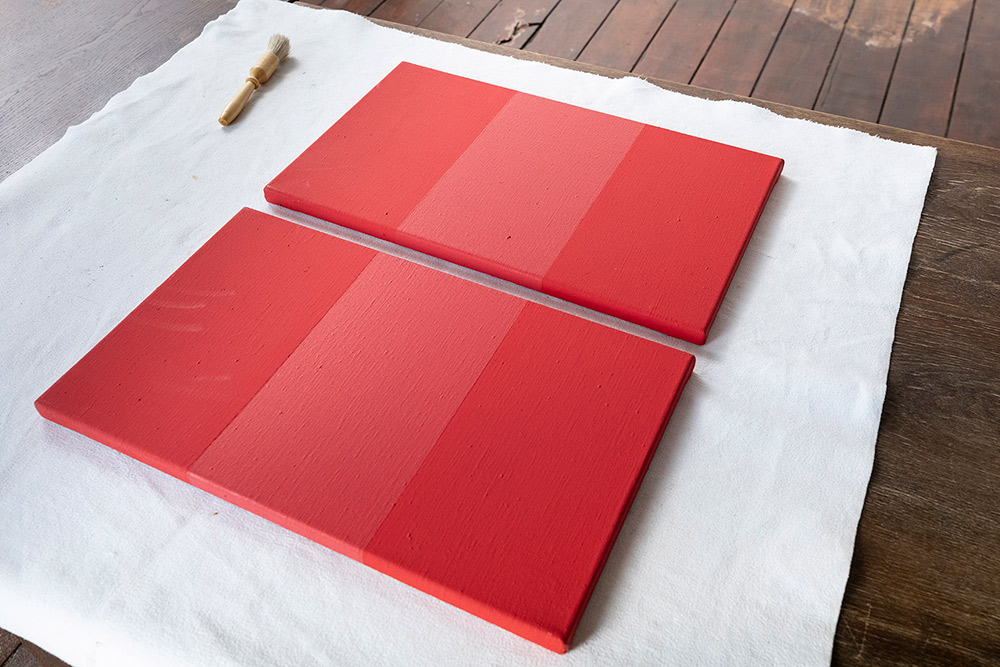 21

Ill. 1, 8, 9, photos: Olafur Gislason
Ill. 2, 3, 5, photos: Christiane Meyer-Stoll
Ill. 4, 7, 17, photos: Nana Petzet
Ill. 6, 18, photo: Quirin Leppert
Ill. 10, photo: Regina Schubert
Ill. 11, photo: Bernd Sinterhauf
Ill 12, 13, photos: Paul Andriesse
Ill. 14, photo: Susanne Willisch
Ill. 15, 16 photos: Artur Ketnath
Ill. 19, 10, 21, photos: Helge Mundt